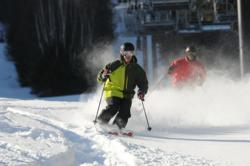 RFID re-loadable cards make it really convenient when it gets busy [at the ticket window]
Bridgton, ME (PRWEB) May 04, 2011
Shawnee Peak Ski Area is considering a giant step toward the future of smart technology with the addition of RFID (Radio Frequency Identification) cards and gates. Because a new card-based system would dramatically change the way most skiers and riders would buy tickets and use the lifts, Shawnee Peak has created an online survey to gauge consumer interest and solicit comments.
Skiers and riders would be issued a card, loaded with an RFID chip, which would automatically activate gates, located at the bottom of each lift, allowing the skier to load. In addition, the card can be read from inside the pocket of the user, eliminating the need to physically show your ticket or season pass to a lift attendant. Further, when a card is registered online, the user will receive discount offers on future purchases, have the ability to load tickets on the card and track individual ski runs.
The card and gate system will be a substantial up-front cost, but ultimately will save skiers and riders time at the ticket window if they purchase tickets online. In addition, paper tickets will become a thing of the past, saving money and reducing waste.
"We believe that this technology is undoubtedly the wave of the future," said Ed Rock, General Manager and VP of Shawnee Peak. "Harnessing the power of the internet and potential of smart technology will position Shawnee Peak on the cutting edge of ticketing, social media and communication."
Card-based ticketing systems have been installed at several ski resorts in the Western United States with positive results. Users like the ability to pay for tickets online, bypass the ticket window and post their daily ski runs to their Facebook profile or other social networks.
More than 1,000 respondents have already logged their survey answers and comments, including:
"Have experienced this system in Washington State where they currently use RFID re-loadable cards...makes it really convenient when it gets busy (no waits in line!), and takes a load of work off the resort itself (ticket counter/services desk)...is also nice because it speeds up the lift line with no hassles of checking whether your pass is valid or not," said A. Dean, Gray, Maine. "Great system & easy to use, see no cons to the system as of yet!"
If you would like to add your comments and thoughts to this topic, please take Shawnee Peak's simple, 6-question survey today. The Survey closes at 4:30pm EST Friday, May 6, 2011.
###