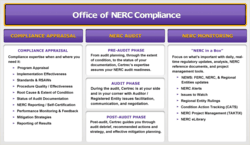 "Focusing on FERC, NERC and Regional Entities, The Office of NERC Compliance provides clarity, focus and direction – from news, issues, and alerts to compliance appraisal, through the entire regulatory audit cycle," says Mr. Biggs
Ft. Worth, TX (PRWEB) May 03, 2011
Certrec, a leading regulatory licensing and compliance solutions provider, introduces The Office of NERC Compliance (ONC) – the utility industry's first, comprehensive NERC compliance, audit, and monitoring solution for Registered Entities.
From NERC compliance appraisal to process documentation, from audit preparation and negotiation through project management, the Office of NERC Compliance helps Registered Entities to:

Confidently evaluate the state of NERC compliance across their organization
Efficiently prepare for NERC audits
Effectively communicate with regulators during audits
Keep up to date with changing standards, rulings, policies, and audit findings
Efficiently manage and track compliance conditions and field projects
Manage the entire NERC compliance process in near-real time through a single, online hosted solution that is accessible to everyone no matter location or device (email, laptop, smart phone, or iPad)
"Not only is NERC compliance new for utilities, it is often ambiguous and complex," says Bob Biggs, Manager of NERC Compliance for Certrec. "Not only do NERC standards often not align with utility operating practices, they demand comprehensive procedure documentation, regular compliance monitoring and tracking, and active employee training. This is a stiff challenge for many utilities coping with a loss of tribal knowledge, decreasing budgets, and inefficient work processes," notes Biggs.
Staffed by NERC compliance experts with more than 250 cumulative years of regulatory compliance and audit experience, Certrec's Office of NERC Compliance (ONC) helps compliance managers:
Manage the Impact of the NERC Regulatory Process
Manage Communication with Multiple Regulators
Maintain NERC Compliance
Founded in 1988, CERTREC is a regulatory compliance solution provider that helps utilities manage the NRC, FERC, and NERC regulatory process to their advantage. Certrec offers more than 250 cumulative years of engineering and audit experience with the Nuclear Regulatory Commission, the Federal Energy Regulatory Commission, the North American Electric Reliability Corporation, and other Regional Entities. Certrec's licensing and compliance, performance improvement, and technical solutions ensure that compliance managers better-manage the risks of the regulatory communication, documentation, audit, and mitigation process.
For more information contact:
Michelle Thomas
817.738.7661
Michelle(dot)thomas(at)certrec(dot)com
http://www.certrec.com
# # #