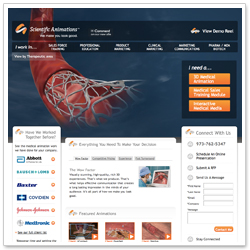 A medical animation buyer can browse Scientific Animations' extensive body of work at ScientificAnimations.com.
Maplewood, NJ (PRWEB) May 05, 2011
The all-new ScientificAnimations.com website now makes it easier than ever to browse the company's extensive body of medical animation. Complete with over one-hundred video samples, the site also provides the medical device and pharma industries with best-in-class user features.
High-quality, visually stunning medical animation is a proven way to educate various audiences about a medical device or medical procedure. Selecting a firm to create and produce a medical animation is a major decision. It will affect not only the degree of education that takes place, but also how others view the product, the company, and those who selected the firm, too.
Scientific Animations understands how important the selection of a medical animation provider is to medical device manufacturers and pharma businesses. The company intends to convey this understanding through its new tagline, "We Make You Look Good".
"The principals of Scientific Animations come out of the medical device and pharma industries," explained Ashish Khera, Vice President of Scientific Animations. "We've been there. We get it. We understand what the needs are, and how to make the decision-maker look good with our medical animations."
With sales, marketing and client service teams headquartered in the United States, clients of Scientific Animations reap the significant value and quality benefits of medical animation offshore production without any of the inherent difficulties of time zones, accessibility and communication. The company's full-time staff of over 15 medical animation animators and graphics professionals makes Scientific Animations one of the largest medical animation and media studios in the world, translating into an ability to deliver simultaneous and complex projects within tight time lines.
The result? Stunning medical animation that exceed the client's objectives, turned around quickly and at reasonable cost.
One of the most convenient features of the new website http://www.SciewntificAnimations.com is the ability for users to schedule an online presentation directly on the site. The feature gives users direct access to the calendar a of Scientific Animations Vice President. "A prospective medical animation buyer can learn a lot about us in a 10-minute capabilities presentation", Mr. Khera said. "In addition, it gives us the ability to tailor responses to common questions based on factors such as time frame, subject matter and budget."
Another feature sure to please is the ability not only to instantly chat live with someone, but, a Scientific Animations Vice President, no less. The site also provides the ability to easily submit a RFP. None of these types of features are currently available on the websites of competitors. This, combined with the extensive medical animation video samples, make ScientificAnimations.com best-in-class.
About The Company
Scientific Animations is a full-service medical animation and integrated e-learning solutions company. Founded in 2004 by veteran Indian-American entrepreneurs Girish Khera and Ashish Khera, Scientific Animations is the first medical animation company to leverage client service and medical device industry experience creative teams with low-cost, high-quality off-shore production.
Media Contacts
Steve DiPietro
DiPietro Marketing Group LLC
888.331.0009 x100
press(at)dipietro(dot)biz
Ashish Khera
Scientific Animations
973-762-5347
ashishkhera(at)scientificanimations(dot)com
# # #