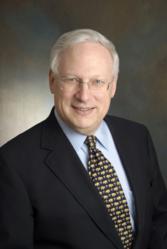 Berkeley Heights, NJ (PRWEB) May 09, 2011
William A. Tansey, III, M.D., F.A.C.C., Summit Medical Group cardiologist, will be honored by the American Heart Association at its 2011 "Affair of the Heart" Ball on Saturday, May 14. This is the organization's premier event recognizing and celebrating excellence in research, health care, treatment and community involvement in cardiovascular diseases and stroke. Dr. Tansey will be the recipient of the 2011 Victor Parsonnet, M.D. Visionary Award.
William A. Tansey, III, M.D., F.A.C.C., is board certified in internal medicine and cardiovascular disease. Dr. Tansey is Ambassador for the American Heart Association of Northern New Jersey, a founding member of the American Heart Association New York/New Jersey/Connecticut/Long Island Heritage Affiliate Board, Chairman of the American Heart Association Advocacy Committee, and a founding member of the New Jersey Department of Health and Senior Services Cardiovascular Health Advisory Panel. He also is Chair of the Liberty Science Center Board in Jersey City, N.J.
Dedicated to promoting cardiovascular health and careers healthcare, Dr. Tansey actively volunteers for a variety of projects and nonprofit organizations concerning cardiology. His expertise and guidance were integral in developing the Liberty Science Center Cardiac Classroom, a leading-edge educational opportunity that allows students to witness heart surgery and ask questions of the medical staff during the procedure. As a result of his vision, students as far away as London have seen and participated in the broadcasts.
Dr. Tansey is the recipient of many honors and awards, including the distinguished Ellis Island Medal of Honor for Americans with outstanding personal and professional qualities who have maintained the richness of their heritage. As a result of his public advocacy for heart health and safety, the Star Ledger nominated him for Jerseyan of the Week. The Consumer Research Council of America lists him in "America's Top Cardiologists," and he is listed among Best Doctors in America in regional and national magazines, including NJ Savvy Living. Dr. Tansey is a peer reviewer for the American College of Cardiology Foundation /American Heart Association "Focused Update of Guidelines for the Management of Patients With Unstable Angina."
Dr. Tansey earned his B.S. from Yale University, New Haven, C.T., and his M.D. from Columbia University College of Physicians and Surgeons, New York, N.Y. He did his residencey in Internal Medicine,at St. Luke's Hospital Center, New York, N.Y. He completed several fellowships with the American Heart Association, American College of Cardiology, American College of Physicians and, St. Luke's Hospital Center.
Dr. Tansey practices at Summit Medical Group's 1 Diamond Hill Road location and at its Short Hills location on Woodland Road. When he is not working with his patients, Dr. Tansey supports the arts in New Jersey, including the Paper Mill Playhouse where he has served on the Board of Trustees.
ABOUT SUMMIT MEDICAL GROUP
Providing exceptional primary and specialty care since 1929, Summit Medical Group has pioneered information technology advances with its electronic health records and electronic prescribing program. With more than 225 highly qualified healthcare providers, it serves as a unique model of healthcare in New Jersey. Through its nationally recognized award-winning customer service program, Summit Medical Group treats more than 55,000 patients per month at its Berkeley Heights campus and area satellites in Bayonne, Berkeley Heights, Millburn, Shorts Hills, Summit, Warren, and Westfield. NJBiz magazine named Summit Medical Group one of the Fifty Fastest Growing Companies in New Jersey. Summit Medical Group is a member of the American Medical Group Association For more information, visit http://www.summitmedicalgroup.com.
# # #