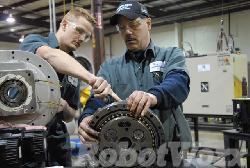 RobotWorx' goal is create content that customers and web visitors can use as a resource
Marion, OH (PRWEB) May 26, 2011
Since its start in 1992, RobotWorx has remained committed to providing customers with robot programming advice and training, free of charge. This year, the industrial robot integrator is making technical robot information accessible not just to customers at its facility, but also to web visitors.
RobotWorx' media and web teams are actively working to create a series of practical How-To, Preventive Maintenance, and Quick Tip robot videos as well as written content. These practical guides are designed to give anyone with an industrial robot (or an interest in industrial robots) clear direction and guidance. Some of the topics covered thus far include: Preventive Maintenance 101: Cables; How to Install Your Industrial Robot; and Quick Tip: Shipping Your Robot.
"Our educational How-To videos and articles are the result of collaboration between our content team and RobotWorx engineers and technicians." Dan Claborn, a web content creator for RobotWorx, said. "We want the people watching our videos and reading our articles to gain a better understanding of what goes into robot maintenance, safety, etc."
RobotWorx' goal is create content that customers and web visitors can use as a resource, giving them the tools to perform preventive maintenance, troubleshooting, and basic programming, on their own.
"RobotWorx works hard to maintain its position as a industry leader in industrial robots and robotic system integration, but we also strive to be a educational and custom service leader," Claborn said.
About RobotWorx:
RobotWorx integrates new and reconditioned industrial robot systems for customers in a variety of industries, including food production, plastics, electronics, military, and manufacturing. A FANUC Authorized Integrator, Motoman, and KUKA, RobotWorx offers reliable, top-quality solutions for applications ranging from welding, plasma cutting, and deburring, to machine tending and assembly. Find out more about RobotWorx by visiting http://www.robots.com or calling 740-383-8383.
###