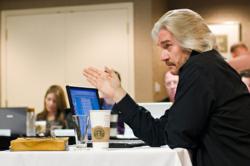 Portland, OR (PRWEB) May 04, 2011
The priority application deadline for several ministry degree programs at George Fox Evangelical Seminary is set for Wednesday, June 1.
Students interested in enrolling in any of the seminary's Doctor of Ministry tracks – in spiritual formation, global missional leadership, and semiotics and future studies – are encouraged to enroll before the deadline.
The deadline also applies to the school's online learning community degrees: the Master of Arts in Ministry Leadership, Master of Divinity, and Master of Arts in Spiritual Formation programs.
To enroll or learn more, contact Sheila Bartlett, admissions counselor, at 503-554-6122. The seminary in Oregon is located at 12753 S.W. 68th Ave. in Portland.
"Prospective students from across the nation show high aptitude for practical theological education," Bartlett said. "They are looking for strong academics and want personal spiritual growth opportunities. We offer it here."
Graduates of George Fox Evangelical Seminary are trained for ministry inside and outside church walls. They work as pastors, church staff, hospice workers, and as military and hospital chaplains. Others successfully plant churches, including multi-ethnic congregations, and oversee denominational and parachurch ministries in the United States, Canada, England and South Africa.
A seminary education also prepares graduates for postgraduate academic degrees and teaching jobs in seminaries or colleges.
Each of the school's Doctor of Ministry degrees use a cohort model and feature Web-based instruction with weekly online interaction with instructors and cohort members. Each also includes face-to-face retreat intensives in locations ranging from the Oregon Coast and Orcas Island in the Pacific Northwest to partnering seminaries and schools in Europe, Africa and Southeast Asia.
The Doctor of Ministry (DMin) is the highest professional degree for those in parish or related ministries. It is designed for educated, experienced practitioners who desire to stimulate renewal in themselves and in their ministries through advanced training, research and reflection.
Both Doctor of Ministry programs are led by high-profile mentors: Len Sweet, author of more than 30 books and the founder and president of SpiritVenture Ministries, leads the semiotics and future studies program, and Jason Clark, pastor of Vineyard Sutton Church in Sutton, England, heads the Global Missional Leadership program.
The Master of Divinity, Master of Arts in Theological Studies, Master of Arts in Spiritual Formation, and Master of Arts in Ministry Leadership programs meet at the seminary's Portland Center near Tigard. Students choose Monday or Thursday classes of three-hour blocks and choose from a variety of Web-enhanced, online or weekend courses.
The master's programs also give students the option of taking as many as 10 credits in one day, allowing commuters from throughout the region to attend classes just one day a week.
Specifics on seminary programs are available at seminary.georgefox.edu.
George Fox University is ranked by Forbes as the top Christian college in the Pacific Northwest and among the top three Christian colleges in the country. George Fox is the only Christian university in the Pacific Northwest classified by U.S. News & World Report as a first tier national university. More than 3,400 students attend classes on the university's campus in Newberg, Ore., and at teaching centers in Portland, Salem, and Redmond, Ore., and Boise, Idaho. George Fox offers bachelor's degrees in more than 40 majors, degree-completion programs for working adults, five seminary degrees, and 11 master's and doctoral degrees.
Contact:
Sheila Bartlett
Admissions Counselor, George Fox Evangelical Seminary
503-554-6122
###