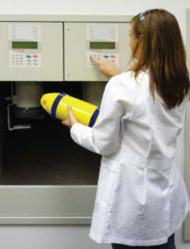 Denver, CO (PRWEB) May 05, 2011
Swisslog, a leading provider of automated materials transport and medication management solutions, today announced that it has been awarded a single-source agreement from Premier Purchasing Partners, LP for pneumatic tube systems and autonomous mobile robots. Premier is a leading Group Purchasing Organization (GPO) serving the healthcare industry.
The 36-month agreement available to Premier-member healthcare organizations became effective May 1, 2011. The agreement provides Premier members pre-negotiated pricing for Translogic Pneumatic Tube Systems and additions, as well as valued-added discounts for parts and services. Swisslog's autonomous mobile robots (AMR), SpeciMinder™ and RoboCourier™, are also on contract. SpeciMinder transports specimens, tissues and other items within the central hospital lab. RoboCourier transports hospital-wide, serving pharmacy and materials management with a lockable payload compartment and elevator interface. Each robot has a 50-pound payload capacity and can operate 24/7 between battery recharging.
"Our agreement with Premier assures its members added value benefits on our pneumatic tube systems and autonomous mobile robots," said Jim Patrician, senior vice president of Swisslog Healthcare Solutions North America. "These materials transport systems offer hospitals outstanding reliability and a rapid return-on-investment by reducing manual transport chores and returning staff to patient-relevant tasks," Patrician said.
Swisslog Healthcare Solutions is the leading supplier of logistics automation solutions for healthcare facilities. Swisslog has installed automated materials transport and medication management systems in more than 3,000 hospitals around the world, including more than 2,000 in North America. Swisslog offers total systems design, manufacturing, installation and customer support providing a complete supply chain management approach to the logistics challenges of hospitals. The North American division of Swisslog Healthcare Solutions is based in Denver, Colo. Stay connected with Swisslog Healthcare Solutions on Facebook, Twitter and YouTube.
About the Premier healthcare alliance, Malcolm Baldrige National Quality Award recipient
Premier is a performance improvement alliance of more than 2,500 U.S. hospitals and 73,000-plus other healthcare sites using the power of collaboration to lead the transformation to high quality, cost-effective care. Owned by hospitals, health systems and other providers, Premier maintains the nation's most comprehensive repository of clinical, financial and outcomes information and operates a leading healthcare purchasing network. A world leader in helping deliver measurable improvements in care, Premier has worked with the Centers for Medicare & Medicaid Services and the United Kingdom's National Health Service North West to improve hospital performance. Premier is headquartered in Charlotte, N.C.
About Swisslog
Swisslog is a global provider of integrated logistics solutions for warehouses, distribution centers and hospitals. Its comprehensive services portfolio ranges from building complex warehouses and distribution centers to implementing Swisslog's own software to intra-company logistics solutions for hospitals.
Swisslog's solutions optimize customers' production, logistics and distribution processes in order to increase flexibility, responsiveness and quality of service while minimizing logistics costs. With years of experience in the development and implementation of integrated logistics solutions, Swisslog provides the expertise that customers in more than 50 countries rely on.
Headquartered in Buchs/Aarau, Switzerland, Swisslog currently employs over 2,000 staff in about 20 countries worldwide. The group's parent company, Swisslog Holding AG, is listed on the SIX Swiss Exchange (security number: 1232462, Telekurs: SLOG, Reuters: SLOG.S). For more information, visit http://www.swisslog.com.
# # #