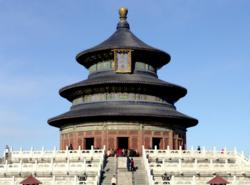 Vancouver, BC (PRWEB) May 04, 2011
Chinapac International, premier specialist in China & the Orient since 1985, has introduced an online workshop that will help travel agents learn about China and its top tourist attractions.
China, to this day, poses as one of the more intimidating destinations when it comes to travel. Aside from the country occupying the majority of East Asia's land mass, there is also the Chinese culture, language, not to mention food that can be as daunting to a Canadian traveler just as it is to most of the mainstream crowd.
Enter Chinapac's online workshop designed to abate this level of obscurity among agents who have minimal knowledge of China as a tourist destination.
"Our objective is to assist travel agents with the essential information they need to know [of China] so that they can eliminate the element of doubt and intimidation when promoting China tours to their clients," said Chinapac International Director of Sales & Operations Otis Ashby. "With this workshop, we hope to also bring awareness to China's booming tourism sector that has really improved compared to how it was a decade ago."
The workshop is made up of a series of overviews that introduce the country's top destination cities and territories plus their known attraction sites. At the end of the workshop, participants will be asked thirty exam questions pertaining to known Chinese attractions and some need-to-knows of a China tour. Those who complete the exam successfully will have a chance to win a 6 Day Beijing Tour for 2 where they can enjoy an exploration of the capital's prominent sites such as the Great Wall, Tian An Men Square, Forbidden City, Temple of Heaven, not to mention an insight to Beijing's traditional way of living in an exciting Hutong tour that takes travelers through the narrow alleys of Peking while riding a pedicab.
To access, agents can sign up at http://www.yourworkshops.ca
Chinapac International specializes in travel service to China and the Orient and is proud to celebrate 26 successful years in the travel industry as the premier travel package tour operator to the People's Republic of China and South East Asia.
For more information, please call 1-800-661-8182 or visit http://www.chinapac.com
###