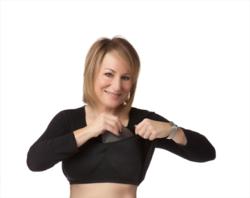 "It's difficult to feel empowered when you're uncomfortable and self-conscious because nothing fits or feels like it should."
- Dr. Kimless-Garber
West Chester, PA (PRWEB) May 05, 2011
Red Thread—a specialty clothing line designed for breast cancer survivors sold exclusively online at http://www.redthreadbydrdeb.com—officially launched this week in honor of Mother's Day.
After anesthesiologist Dr. Debra Kimless-Garber, M.D. underwent a double mastectomy and reconstructive surgery, she found herself on an unexpected path down fashion lane.
Fueled by frustration and armed with little more than a personal sewing machine and a burning desire to feel comfortable and confident, Dr. Deb, as she's known, set out to "fix" the problem. After countless prototypes and multiple research trips around the globe Red Thread was born.
"Since my experience I've talked with hundreds of breast cancer survivors and they all agree: No one talks about life after the surgery. The lingering pain and the fact that nothing fits right," said doctor and Red Thread creator Dr. Debra Kimless-Garber.
The specialty clothing and accessories line features clothing specifically designed by Dr. Deb and a top fit expert for breast cancer survivors. Red Thread is focused on helping breast cancer survivors feel confident with clothing that fits right.
"It's difficult to feel empowered when you're uncomfortable and self-conscious because nothing fits or feels like it should," said Dr. Kimless-Garber.
The name Red Thread came from a concept embraced by Dr. Deb while she was going through her healing process after her double mastectomy and reconstructive surgery. Many cultures around the world believe in the power of the red thread. Wearing a red thread is believed to be protective, bring empowerment and positive energy, and bestow good luck. With that in mind, a red thread can be found inside every garment manufactured by the company.
"It's been an amazing journey filled with a range of emotions and the launch of Red Thread is the culmination of that journey," said Dr. Kimless-Garber. "Now I'm looking forward to empowering other breast cancer survivors."
Visit Red Thread on the web for breast cancer clothes, bras, and accessories.
# # #