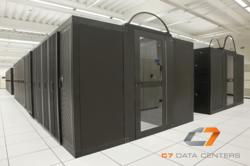 We were particularly impressed with the value proposition offered by C7
Salt Lake City, UT (PRWEB) May 04, 2011
C7 Data Centers, Inc. (C7), a leading provider of colocation and hosted business solutions, announced today that Real Property Insight (RPI) has signed an agreement to become its newest data center client. Using C7's data center services, RPI will host corporate applications and provide customers with access to the most current property and financial information available.
"We were particularly impressed with the value proposition offered by C7—outstanding service and professionalism at a reasonable price," said Kim Thompson, President, Real Property Insight. "We were also impressed by the relationship between the data center manager and the data center support team. There is a willingness to work with us and address our unique needs."
RPI products assist mortgage loan servicing operations by delivering current, consistent and reliable information. With this information, RPI assists in aligning the interests of all parties involved in the mortgage handling process.
"C7's purpose-built data centers are designed with the latest power, cooling, fire suppression, and security system technologies to give our customers guaranteed data access," stated Nathan Hatch, CEO of C7. "Real Property Insight can be confident that our data center solutions will benefit and protect their organization."
All sales inquiries should be directed to C7 at sales(at)c7dc(dot)com or 801-822-5330.
About Real Property Insight
Real Property Insight is a specialized integrator of information focused on distressed asset disposition. Nationally, the company offers financial institutions, agencies, investors and insurers credible, consistent and comprehensive information insights into the homes in their portfolios and acquisition pools. With integrated delivery, nationwide repair management and other services, Real Property Insight customers can optimize their asset sales on the scale this mortgage crisis demands. For more information please visit http://www.realpropertyinsight.com or call 800-661-0595.
About C7 Data Centers, Inc.
C7 Data Centers is a privately held Utah company focused on providing high-value colocation, disaster recovery, and virtualization solutions to local, national and international businesses. Companies select Utah for colocation and business continuance because of its disaster free record, low operational costs, and easily accessible location in the United States. For more information about C7 Data Centers, please visit http://www.c7dc.com or call 801-822-5300.
###