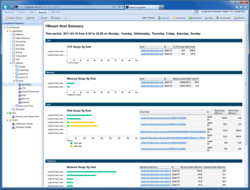 Heroix, which has offered performance monitoring solution for 25 years, provides the most affordable monitoring software available today.
Braintree, MA (PRWEB) May 04, 2011
Heroix, a leading developer of application performance and network monitoring software, today announced record growth in 2010. License sales of its flagship product, Heroix Longitude, were 260 percent higher in Q4 2010 than during the previous quarter, and the company ended 2010 with more than a 100 percent increase in license sales over 2009.
Company VP of Development Dick Levin attributed the increase to expanded sales to existing customers and a number of new customers adopting the solution.
"These record-breaking results show that Heroix Longitude is resoundingly accepted by the market as the product of choice for application performance and network monitoring," noted Levin. "As companies recovered from the recession, they recognized the need for a proven, self-service monitoring solution that delivers immediate and comprehensive performance information."
Heroix Longitude delivers immediate, comprehensive performance information about hundreds of application metrics to solve multiple monitoring challenges in companies of all sizes.
As companies have slowly returned to making IT investments again after the deep economic slowdown that began in 2008, many companies are still cautious about overspending and are seeking economical, but established solutions. Heroix, which has offered performance monitoring solutions for 25 years, provides the most affordable monitoring software available today.
Companies are also seeking to create a more efficient IT department; staff time is at a premium because of increased demands for new services and resources. Heroix Longitude can easily be used by business staff, so it frees up the IT team for other necessary projects. Heroix has redesigned its award-winning software to offer a Web-based 2.0 interface that is intuitive to all, making it easy for non-technical users to be monitoring in minutes.
"Longitude monitors hundreds of vital performance metrics, alerts you to problems, takes corrective actions, and creates reports for everyone, from executives to IT staff," continued Levin. "A monitoring tool like Longitude that meets multiple goals of reduced costs, operational efficiency, and time savings can be a very valuable corporate asset."
Heroix offers a free trial of Longitude at http://www.heroix.com. For more information and resources on application and network monitoring, visit Heroix's online resource library.
Pricing and Availability
Longitude is available now, Please visit Heroix or call 800-229-6500 or 781-848-1701. Pricing starts at $199 for 5 managed devices.
About Heroix
Heroix has provided best-of-breed application performance and network monitoring solutions for 25 years to companies like, Honeywell, Kaiser Permanente, Motorola, Tembec and Young Broadcasting. Heroix Longitude is the fastest, easiest-to-use, and most affordable application and network monitoring software available today. This proven, self-service solution optimizes the availability and performance of applications, databases, systems, and IT infrastructure across multiple platforms.
Heroix, Heroix Longitude, RoboMon, Heroix eQ, and their corresponding logos are registered trademarks of Heroix. All other company and product names mentioned are used only for identification purposes and may be trademarks or registered trademarks of their respective companies.
# # #