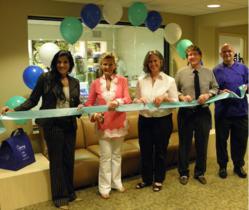 Mount Kisco, NY/Cross River, NY (PRWEB) May 03, 2011
O2Living, a holistic lifestyle and wellness community, recently celebrated the grand opening of its new natural lifestyle center located inside the Saw Mill Club, 77 Kensico Drive, Mount Kisco.
The new holistic wellness center features O2Living's signature one, three, five and seven-day juice cleanses, which allow the body to gently detoxify. The center also offers all-natural, fresh-pressed fruit and vegetable juices, as well as custom developed raw food plans to preserve the long-lasting benefits of a juice cleanse.
O2Living at the Saw Mill Club marks the company's second location and is part of an ongoing effort to make a wellness-centered lifestyle more accessible to the Westchester community.
"We are thrilled to expand into Mount Kisco and celebrate the opening of O2Living at the Saw Mill Club," said Rosemary Devlin, founder, O2Living. "People often perceive a natural or holistic lifestyle as difficult to maintain. We hope that by opening at the Saw Mill Club we can show people how easy it is to integrate a juice cleanse and/or a raw food plan into their existing fitness regime."
O2Living juice cleanses and food plans are available for pre-order and pick-up at the Saw Mill Club. All orders must be placed by 2 p.m. to guarantee next-day pick-up. Orders can be placed via telephone (914.733.4014), in-person, or through O2Living's new "Juice Cleanse" app for iPhone, iPad, and iPod Touch. The free app, available for download through the App Store, provides users with information about cleansing and detoxifying, as well as the specific juice cleanses and raw food plans available at O2Living.
O2Living at the Saw Mill Club is located at 77 Kensico Drive in Mt Kisco, N.Y. and is open daily from 8a.m.-2p.m. To place an order or for more information, call 914.733.4014, visit O2Living online at O2Living.me or follow @O2living on Twitter.
About O2 Living (http://www.o2living.me)
Headquartered in Cross River, New York, O2Living is an all embracing community dedicated to lifestyle/wellness. Established as Cross River Wellness, LLC (d/b/a O2Living) this holistic spa and wellness center encourages people to live, learn and connect. It offers yoga, spa services, including signature Oxygen treatments, a retail boutique and Live Food Café nestled in Cross River's quaint Yellow Monkey Village. The wellness community also features an online destination, O2Living.me, where members can connect and communicate about their experiences and build a greater sense of community with those who share their passion for and commitment to health and well-being. A second location, O2Living at the Saw Mill Club, opened in May 2011 featuring juice cleanses, raw food plans, and fresh-pressed fruit and vegetable juices.
# # #