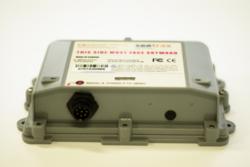 The stolen boat was recovered within two hours of the discovery that it was missing.
Ottawa, Ontario (PRWEB) May 04, 2011
Guardian Mobility enabled the rapid recovery of a stolen boat in The Bahamas. The boat, a 27 ft. Key West Sport Fisherman with twin Yamaha outboards, was stolen from the owner's beach house at Treasure Cay on the island of Abaco in The Bahamas on Friday, April 8, 2011 at two o'clock in the morning. The boat was recovered later that same day within two hours of the discovery that it was missing. The owner had the reliable Seatrax marine tracking device installed 3 years previously, but this was his first personal asset recovery experience.
The owner checked his e-mail late that morning and was surprised to find that his boat was approximately 150 miles from its slip in the marina heading towards the island of Bimini. The boat had been travelling since two o'clock am and was only 20 miles from Bimini.
The owner went to the Treasure Cay police station where police in Abaco and Bimini alike responded quickly. He provided the location of the boat to the police which they found in a small cove near the end of a local air strip. The owner, along with a detective from Abaco, flew to Bimini where the boat was recovered, intact. By Saturday afternoon, the boat was back in its slip in Treasure Cay.
About Guardian Mobility
Guardian Mobility is the provider of global tracking, voice and data communications and data management solutions to the aviation marketplace. Guardian has developed a full range of products and services targeted at assisting aircraft operators increase safety and efficiency, reduce costs and improve reporting. Guardian introduced the first portable GPS tracking device in 2002, delivering location and status information, and has since developed solutions to facilitate 2-way text messaging and automatic data communications between the aircraft and the ground. Guardian's products are approved for government-mandated Automatic Flight Following (AFF) and are used by fleet operators worldwide for Flight Data Monitoring (FDM) and Engine Trend Monitoring (ETM) to support Flight Operations Quality Assurance (FOQA) and Maintenance Operations Quality Assurance (MOQA) as part of a Safety Management System (SMS).
###