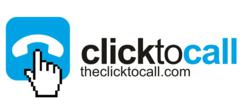 With the release of TheClickToCall Facebook application users can now receive calls from anywhere in the world through a phone to phone conversation right from the Facebook profile or Fan page.
Miami, FL (PRWEB) May 06, 2011
TheClickToCall has released a Facebook application for personal profiles and fan pages. The installation of the TheClickToCall Facebook application provides either personal users or fan pages with a direct international toll free number published on wall posts or permanently visible on a fan page tab.
People browsing can then click on the post or tab to be in contact with the user through a phone to phone conversation.
The Facebook application works by posting messages on the users' wall though which contacts can click and call the user without having to install the application themselves before calling. The application can also be used in Facebook pages, this is done through the addition of a "Call Me" tab within the page which when clicked displays the "TheClickToCall" button.
TheClicKtoCall Facebook application is provided at no cost for the US and Canada users. The installation process is made through a Wizard which in case the user has no previous account with TheClickToCall creates one and verifies a phone within it. If the user registering has already got an account the user will be prompt to select which of the phones added to the account will be used on Facebook and after the selection of the posting frequency the setup is complete. If a user is an Admin of a Fan Page it will also be possible to add the application to as many Fan Pages as the user administrates.
The user is provided with complete control over the wall post frequency and with the use of Facebook's internal features each user can determine which people can use the application and at what times the application is functional. The Facebook application can be filtered as the user prefers with blocks on certain people or groups of people through a simple process on Facebook.
To learn more about TheClickToCall visit http://theclicktocall.com/mainpage.aspx.
# # #