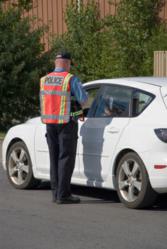 The deterrent value of sobriety checkpoints is dependent upon advance publicity, such as that provided by the California DUI Checkpoint Locations Facebook page.
Irvine, CA (PRWEB) May 04, 2011
Through the power of Facebook, California DUI defense attorney Thomas Wallin has a lot of new "fans" these days—over 2,500 in fact. His new California DUI Checkpoint Locations Facebook page provides the location of upcoming California DUI checkpoints as well as information about California DUI checkpoint laws.
The "California DUI Checkpoint Locations" Facebook page was first launched in February, and it is continuing to grow in popularity. As of today, the page has 2,528 fans.
Mr. Wallin is not new to social media. He also shares California DUI checkpoint locations via Twitter, the OC DUI Checkpoints website, and his California DUI Blog.
While the response to Wallin's Facebook page has been largely positive, the use of similar cell phone applications has recently come under fire by politicians and the media.
However, proponents of DUI checkpoint alert services, like Mr. Wallin, point out that the locations of sobriety checkpoints are no big secret. In fact, California law requires police departments to publicize certain information about the locations of planned DUI checkpoints.
This is in large part because sobriety checkpoints are designed to serve as a deterrent, not just to arrest drunk drivers. As stated by the California Supreme Court in the landmark case of Ingersoll vs. Palmer (43 Cal.3d 1321 (1987)), "The stated goals of several law enforcement agencies explicitly point to deterrence as a primary objective of the checkpoint program."
As Mr. Wallin explains, "The deterrent value of sobriety checkpoints is dependent upon advance publicity, such as that provided by the California DUI Checkpoint Locations Facebook page. Knowing about the location of California DUI checkpoints ahead of time encourages drivers to think twice before getting behind the wheel after drinking. California drivers who learn of a DUI checkpoint will most likely designate a driver or call a cab rather than risk a DUI arrest."
For this reason, many law enforcement officials support the use of apps or websites that alert drivers to law enforcement activities. "The argument could be made that (these websites and apps) are telling people who are driving drunk how to avoid them, but at the same time the apps and websites reiterate to people who might drive drunk that it's illegal, socially unacceptable and dangerous, and that law enforcement is actively looking for them," Chris Cochran, a spokesman for the California Office of Traffic Safety, told the Orange County Register.
Finally, Mr. Wallin points out that there is no evidence to suggest that advance notice of California sobriety checkpoints leads to a greater incidence of DUI-related accidents.
Therefore, he is eager to continue his efforts to spread the word about California DUI checkpoints with the hope that his Facebook page will protect his "fans" from the dangers of drinking and driving.
Today, Mr. Wallin will be alerting California drivers about heightened DUI enforcement efforts surrounding the upcoming Cinco de Mayo holiday and encouraging those celebrating to designate a driver.
About Thomas Wallin: Thomas Wallin is a respected authority on DUI laws in California and author of the California DUI Guide. For over a decade, he has provided aggressive and professional representation to those accused of DUI in California. Mr. Wallin has knowledge and experience in all aspects of a California DUI case, including sobriety checkpoints.
###