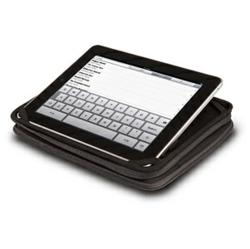 Because they fall between iPods™ and laptops size-wise, tablets can be a little tricky to carry around safely.
Fort Lauderdale, FL (PRWEB) May 05, 2011
iPads™ and e-book readers are on their way to becoming as commonplace as smartphones and iPods™, but as more and more of us cross over into the land of tablet ownership, it's become clear that this new generation of gadgets has a unique set of storage, cleaning and connectivity needs that call for some special attention.
"Because they fall between iPods™ and laptops size-wise, tablets can be a little tricky to carry around safely," notes Christina Hansen, a Product Specialist with CableOrganizer.com. "They're too big to slide into your pocket, and far too small to demand any type of laptop bag. It can also be a challenge to keep their touch screens free of fingerprints and smudges, but with a few smart accessories, it's easy to keep iPads™ and any other tablet-style device safe, clean, charged, and easy to view."
CableOrganizer.com offers the following Top 10 product suggestions to maximize your iPad™ or tablet reader experience both at home and on the road:
BlueLounge® Nest iPad™ and Tablet Stand
Stylish in a minimalist kind of way and unbelievably versatile, this iPad™ perch works as a stand, pedestal, and even a secret stashing place for keys, flash drives, and other small items. Choose from standard Black or White, or take a walk on the wild side with Pink, Blue, Green or Orange. Fits any tablet device.
http://cableorganizer.com/blue-lounge-designs/nest/
12V USB iPad™ Car Charger
Being on the road with your tablet can make charging tough, but this 12V USB mobile charger ensures that on-the-go iPads™ are always powered up and ready for action. Just plug it into your car's DC port (cigarette lighter), connect it to your iPad™ via USB cable (not included), and keep your eyes on the road as your tablet receives up to 10 watts of rapid charging power.
http://cableorganizer.com/outlet/EFL-1410225.html
EVA iPad™ Hard Case with Stand
This hard case keeps your tablet safe from bumps and sharp objects as you carry it around by hand or in your purse or backpack, and then flips open to act as a stand when you're ready to read an e-book, watch a movie, or surf the Web. An interior mesh pocket holds cables, a stylus, or other small accessories.
http://cableorganizer.com/outlet/EFL-1410244.html
Glove2 Neoprene iPad Sleeve
Made from the same water-resistant Neoprene material as diving suits, this zippered sleeve won't make your iPad™ submersible, but it will definitely protect it against spills or a quick dash through the rain. Its form-fitting profile adds barely any bulk to the shape and size of your tablet, so it's perfect for iPads™ that are frequently slipped into crowded purses or briefcases.
http://cableorganizer.com/outlet/EFL-1410181.html
Tweakers Mini Boom iPad Speakers
Equipped with expanding bass booster chambers, these tablet-friendly speakers are able to produce a level of sound that's impressively big for their tiny size. A retractable cord plugs into any iPad™, iPod™, iPhone™, or other portable audio device that accommodates a 3.5mm stereo jack plug. Built-in lithium battery recharges via an included retractable USB cable.
http://cableorganizer.com/outlet/EFL-1900616.html
DeoxIT Screen Cleaner with Microfiber Cloth
Perfect for removing fingerprints and sticky smudges from tablet touch screens as well as CRT, LCD and plasma displays, this ammonia- and alcohol-free cleaner is gentle and effective enough to keep all of your screens, mobile and non-mobile, in pristine and grime-free condition. Includes a 12" x 12" microfiber cloth.
http://cableorganizer.com/outlet/EFL-1140036.html
Adjustable Wire Tablet Stand
Ideal for home use but even better for travel, this barely-there, wire-framed tablet stand is coated in a non-slip plastic sleeving that prevents iPads™ and e-readers from sliding out of place when propped up. Designed to fold up when not in use, this rugged steel travel companion can withstand years of handling, but takes up virtually no space in your luggage.
http://cableorganizer.com/outlet/EFL-2150224.html
Rubber-Tipped Stylus for Touch Screen Gadgets
Fingerprints driving you crazy? Go "hands-off" and use this rubber-tipped stylus to interact with your tablet's touch screen instead. Designed to be as gentle on your iPad as a real fingertip, this stylus leaves behind none of the oily smudges, and thanks to its small size, offers greater precision for typing and link-clicking.
http://cableorganizer.com/outlet/EFL-2150423.html
iPad 30-Pin Dock Extension Cable
If you're dying to listen to your iPad's tunes through an iPod speaker dock but it seems like there's no way to possibly connect, then this adapter cable is just the ticket. Equipped with a 30-pin connector that plugs right into the jack on your iPod dock, this extension cable lets you connect your iPad™ for whole-room audio enjoyment, even though it isn't able to physically sit in the dock.
http://cableorganizer.com/outlet/EFL-1311555.html
Rechargeable iPad Sync/Charging Cable
Essentially a combination of a syncing/charging cord and a battery backup, this unique cable can be plugged into a computer to recharge your iPad's™ battery under normal circumstances, or used as an emergency auxiliary power source when a USB charge isn't available. When plugged into a USB port, this cable simultaneously replenishes both its own battery and your iPad's™, so it's always ready to go.
http://cableorganizer.com/outlet/EFL-2150137.html
About CableOrganizer.com
Founded in February 2002 and headquartered in Fort Lauderdale, FL, CableOrganizer.com is a premier cable and wire management-related product vendor. The company provides companies, organizations and individuals around the globe with 24/7/365 access to an extensive array of high-quality products and information resources through its convenient online storefront. In addition to http://CableOrganizer.com, the company also owns and operates http://CableOrganizer.fr, which is operated out of Rennes, France. CableOrganizer.com also publishes "On the Wire," a free monthly electronic newsletter with a considerable multi-national opt-in circulation base. Among other honors, CableOrganizer.com is continually named among Inc. Magazine's Inc. 500 and 5,000 and Internet Retailer magazine's "Top 500." CableOrganizer.com also ranked on DiversityBusiness.com's list of "Top 500 Women Owned Businesses in the U.S." and was named among the South Florida Business Journal's "Best Places to Work."
Note to Editors: High resolution artwork and select product review samples available by request. Contact Leanne Naidoo, CableOrganizer.com, leanne(at)cableorganizer(dot)com, 954-861-6349.
CableOrganizer is a trademark of CableOrganizer.com, Inc. Other product and company names herein may be trademarks of their respective owners. Copyright 2011 CableOrganizer.com, Inc. All rights reserved.
# # #