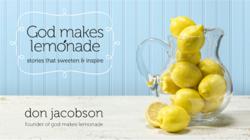 Lemonade Happens!
Portland, OR (PRWEB) May 04, 2011
In his closing statement announcing the death of Osama bin Laden, President Obama affirmed the collective values of our great nation:
"Let us remember that we can do these things not just because of wealth or power, but because of who we are: one nation under God, indivisible, with liberty and justice for all. Thank you. May God bless you. And may God bless the United States of America."
Former publisher Don Jacobson is seeking true stories of hope and inspiration from the ashes of 9/11. With his God Makes Lemonade™ project, Don is on a mission to collect lemonade stories—a play on the old saying, "When life hands you lemons, make lemonade." To borrow the words of Paul Harvey, a lemonade story tells the rest of the story. Now it's time to hear the rest of the 9/11 story.
Don's new project, the God Makes Lemonade™ series, was born of his realization that everyone has a lemonade story. Some are more dramatic than others, but each has the power to transform lives. Don says, "You've seen the bumper sticker—S&@# Happens! Well, Lemonade Happens! too, and that's what I want to focus on—those are the stories I want to tell."
Anyone with a 9/11 lemonade story can visit God Makes Lemonade to submit their account of a difficult circumstance and the lemonade that came from it. Stories not related to 9/11 may be submitted as well. The God Makes Lemonade™ story collection website pays $250 per selected story.
The first book in the God Makes Lemonade™ series is due for release September 2011.
Visit the God Makes Lemonade™ series Facebook page. Follow Lemonade Happens! on Twitter.
Don Jacobson has always loved interacting with authors and developing creative book ideas. As owner and president of Multnomah Publishers for fourteen years, he worked with hundreds of authors and oversaw the production of 1,000+ book titles. In 2006, Don founded D.C. Jacobson & Associates, an author management company. Don and his wife, Brenda, live in Bend, Oregon, and enjoy spending time with their family.
###