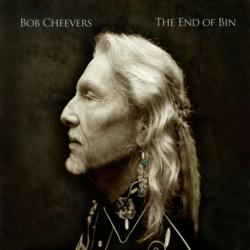 "Bob Cheevers is one cool scarecrow gypsy poet who writes and sings the romantic beautiful truth. When he releases a record, I listen." -- Ray Wylie Hubbard
Austin, TX (PRWEB) May 05, 2011
Americana artist Bob Cheevers has just recorded a powerful and controversial new song and video about the death of Osama bin Laden called "The End of Bin". Cheevers is an Emmy winning songwriter and 2011 Texas Music Award nominee.
Cheevers says "I've never been known for writing 'protest songs', but I have the feeling while writing "The End of Bin" that I might have experienced just a bit of what Neil Young felt like when he was reacting to the Kent State tragedy and writing "Ohio" This terrorist war we've been waging for a decade has taken lots of tolls and when I listen to and watch the video we shot of this song, I can feel in my gut, hear in my voice, and see in my face the anguish of those tolls."
After having written over 3000 songs, Cheevers knows a great song in the making, and states, "The writing process is generally very organic in the beginning then turns into process... but the writing of this song never went to process. I felt like an old time reporter scribbling down on my little notepad what I was hearing and watching. When what I was writing 'felt' complete, I remember going back and placing a couple sections in different spots to strengthen the syntax and then smiling at all of the things I'd felt were captured on that page, needing only a little nudge here and there to paint the clear picture in my head."
Bob, the son of a radio star in the 20s and 30s, grew up in Memphis and got a soul full of music. He later had success in the late 60s with a Top 40 charting pop career including, ironically, singing lead on the TV theme "Love American Style" and playing shows in almost every state. Later, having spent 16 years as a journeyman writer in Nashville, he got the experience that has led to the refinement of his craft. He says regarding "The End of Bin," "I heard it in my head, and literally sat down with my guitar and played it from start to finish never having played it before. So often, songs are given to the writer...the writer just being a conduit for the information. Some things need to be said for the people who feel them but don't have the words to express their feelings." After ten years of touring Europe, Cheevers has lots of friends and fans over there who are echoing the sentiments he sings about in this song. Archetypes...beliefs that exist across miles if not the ages, that are shared by people and civilizations with no particular connection between them. Some people call those truths.
Bob Cheevers says: "This song is about the demise of a man who in my estimation, according to the deeds attributed to him, deserved to die. OK...you can say only 'God' has the right to take a life. You can interject any kind of religious or philosophical thought process into this situation. There are schools of thought about everything in life. I jokingly say that 'Opinion is the lowest form of knowledge...but that's just my opinion.' My opinion is that Bin Laden died as he lived... with blood on his hands. Only this time, it was his own blood. This piece was my visceral response to what I saw unfolding Sunday night May 1st. Consider the context and feel free to think the way you think and do...and know that I'm doing what David Crosby said to do in his song "Long Time Coming"..."Speak out against the madness.""
Watch the video for "The End of Bin" on YouTube
Radio can download the song for free here.
"The End of Bin" on iTunes.
# # #