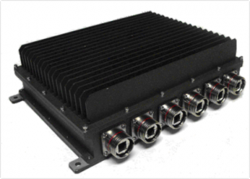 Montreal, Canada (PRWEB) May 03, 2011
Advantech Wireless, a Canadian-based manufacturer of Satellite, RF Equipment and Microwave Systems was recently selected to supply ruggedized routers to a European military agency. The RAR9160 ruggedized router combines all the performance features of Advantech Wireless commercial routers, including high performance and interoperability, while meeting the demanding environmental and reliability requirements of the military.
"Maintaining secure and reliable communications is vital for military applications. These routers are to be used in some of the harshest places on the map," states Mark Lambert, Managing Director, EMEA and VP Sales & Marketing at Advantech Wireless. "Our proven track record in providing communication equipment to key defence agencies in deployments around the globe was instrumental in being awarded this contract."
The RAR9160 ruggedized router operates in temperatures from -22°F to 140°F with no fans or moving parts, encased in a weather-proof box, it is designed to withstand extreme environmental conditions. Advantech Wireless solid state design and Gigabit performance provide the reliability and efficiency needed for military applications. The RAR9160 router is completely compatible with third-party telecommunication equipment and can be easily integrated into existing networks.
Reported spending by the European military fell 2.8 % in real terms since 2009. Increasing budget constraints have made Commercial-Off the Shelf (COTS) products like the Advantech Wireless RAR9160 Ruggedized Router very popular in providing cost effective network connectivity for satellite networks, point to point wireless networks and last mile applications.
About Advantech Wireless
Advantech Wireless, an ISO 9001: 2008 certified corporation, is shaping the world with leading-edge wireless broadband communications. Since 1988, Advantech Wireless manufactures and deploys networking solutions for broadband connectivity, broadcast solutions and backhaul requirements using satellite and terrestrial wireless communications. Products include: Terrestrial Microwave Radios, Antenna Controllers, Deployable Antennas, SSPA's, Block-up Converters, Frequency Converters, Satellite Modems and VSAT (DVB-RCS) Hubs & Terminals. For further information please visit the company's web site at: http://www.advantechwireless.com.
###