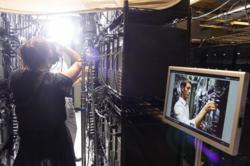 Fort Worth, TX (PRWEB) May 04, 2011
Cameras rolled last week for a Dell catalog photo shoot inside the 20,000-square-foot, downtown headquarters of Consuro, Fort Worth's leading managed technology service provider.
As a Dell Certified Partner, Consuro has extensive experience with Dell's EqualLogicTM data storage systems, making it an ideal choice for Dell's creative team.
"We like to go out to our customer and partner sites to showcase our technology in authentic business settings," explained Suzanne Baldwin, head photography lead of global creative for Dell's SMB Marketing Communications division. The Dell team also took photos of the technology at Hahnfeld Hoffer Stanford, one of Consuro's clients.
"Consuro and customer Hahnfeld Hoffer Stanford provided perfect examples of our storage systems – it's wonderful to see our products in action in the real world," Baldwin said.
Dallas photographer Vanessa Gavalya, hair and makeup stylists, and lighting specialists spent an entire day at Consuro's facilities, located below street level in the Burnett Plaza building in Fort Worth.
The photos will be published in upcoming marketing materials, including the SMB catalog for Dell's North American and European business markets and will also be considered for an upcoming case study, Baldwin said.
"It came as a complete surprise to us that Dell's team picked us for the catalog photo shoot – we were delighted," said Kevin Valadez, Consuro's co-president. Last year Dell's catalog marketing team conducted photo shoots featuring other customers, including a Washington, D.C. bakery and KACE, a Palo Alto systems management company acquired by Dell earlier this year.
Founded in 2008 by Ben Tiblets and co-president Kevin Valadez, Consuro is a premier managed service provider offering comprehensive Windows-based IT services including desktop management, server and network management, offsite management, data center solutions, consulting and project management, and asset procurement. Its broad scope of services delivers advanced technological capabilities to businesses of any size.
###