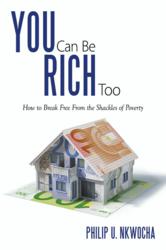 "I was moved to write this book because I have come across so many people that believe they were born poor," says Nkwocha
Lagos, Nigeria (PRWEB) May 04, 2011
More than 1.2 billion people—one in every five on Earth—survive on less than $1 a day, according to Food 4 Africa. Philip U. Nkwocha offers people living in poverty practical and honest advice in his new guide to break free from poverty, You Can Be Rich Too: How to Break Free From the Shackles of Poverty.
Nkwocha delivers powerful truths and revelations that empower readers to break through the veil of poverty. He believes that everyone is able to overcome poverty and live a life of full of God and riches with hard work and faith. No more viewing pressures of life as a detriment, but rather as a way to breakthrough and flourish.
Nkwocha did not always live a life of comfort. His situation and decisions put him in compromising positions repeatedly throughout his life, but Nkwocha fought and overcome his adversities. He has climbed his way up the proverbial ladder by utilizing the same ideas shared in the book.
In You Can Be Rich Too, Nkwocha shares real world experiences for perseverance and prosperity. The book includes:

Overcoming poverty
Creating multiple streams of income
Developing financial intelligence
Discovering the better side of life
Making and managing money
You Can Be Rich Too builds layers of knowledge and confidence, helping readers remove any blame and doubts that prevent them from overcoming poverty and reaching their full potential. Nkwocha discusses how we all are created to overcome hardship and how we can discover a purposeful, fulfilling life.
You Can Be Rich Too is a revealing read for individuals who are in need of financial guidance as well as those who are committed to achieving their own personal best.
"I was moved to write this book because I have come across so many people that believe they were born poor," says Nkwocha. "They end up blaming others and not taking personal responsibility for their financial improvement."
About the Author:
Philip U. Nkwocha holds a bachelor degree in Banking and Finance from the University of Port Harcourt, Rivers State and a master degree in Business Administration from ESUT Business School. He is also an associate of the Chartered Institute of the Bankers of Nigeria (ACBN). Nkwocha is a trained financial advisor, motivational speak and seasoned Bible Scholar. He has spent the last five years educating and coaching people on how to wriggle out of poverty through seminars and workshops in many churches and organizations across Nigeria.
###