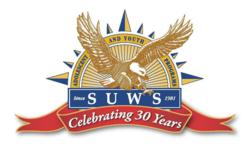 Our underlying philosophies and our dedication to helping children and families get their lives back on track have been constant through the decades
Shoshone, ID (PRWEB) May 04, 2011
SUWS Wilderness Programs, the nation's longest running therapeutic wilderness program for youth, is celebrating 30 years of service with a variety of events scheduled throughout this anniversary year. The schedule will include gatherings in Philadelphia, Dallas and Los Angeles, as well as a celebration for staff members and program alumni on the SUWS campus in southern Idaho.
SUWS (pronounced "soos") offers therapeutic wilderness programs for boys and girls ages 11 to 17 who are experiencing low self-esteem, defiant behavior, attention deficit, depression, substance abuse, and other emotional and behavioral issues. The program focuses on clinical intervention and assessment, and uses the outdoors as an alternative to conventional treatment environments while engaging students using traditional therapeutic methods.
SUWS leadership attributes the program's longevity to its continuous commitment to the highest quality of care and a dedication to helping struggling youth and their families.
"We've had a lot of changes over the years," said SUWS Executive Director Kathy Rex, "but our underlying philosophies and our dedication to helping children and families get their lives back on track have been constant through the decades."
Rex, who has been with SUWS for more than 17 years, said the program's core values have provided the ideal foundation upon which to build a dynamic program that continues to evolve and improve.
"SUWS has definitely evolved," she said. "In our earlier days, for example, we worked primarily with the child in crisis. Today, we identify the entire family's struggle, not just the child's struggle."
In addition to ongoing dialogue between parents and SUWS staff members throughout the student's time at SUWS, the centerpiece of the SUWS family outreach effort is a weeklong Family Camp that parents attend near the halfway point of their child's enrollment period.
"The Family Camp has been unbelievably successful," Rex said. "The parents come out to Idaho and spend five days immersed in the program. It's a life-changing experience for the families."
In addition to providing services for parents as well as students, SUWS also has been a leader in the effort to promote licensure and regulation throughout the therapeutic wilderness industry.
"In the mid-1990s, SUWS became the first youth wilderness program in Idaho to be licensed," Rex said. "We have always emphasized the benefits of establishing standards and regulations for programs."
Since receiving that initial license, SUWS has earned a number of additional accreditations, including CARF (Commission on Accreditation of Rehabilitation Facilities) and AdvancED, an academic accreditation organization that serves more than 27,000 schools in 69 countries.
While this year's anniversary events will certainly involve some reflection on the program's past successes, the SUWS staff won't spend much time resting on their laurels. Rex says she and her colleagues remain focused on ensuring that SUWS continues to evolve, both to meet the changing needs of students and families, and to remain one of the nation's premier providers of therapeutic wilderness services.
"We're all on a mission to help others," she said. "We are always looking to the future and exploring how we can make SUWS an even better place for children and their families."
SUWS is a program of Aspen Education Group, the nation's leading provider of therapeutic education programs for struggling or underachieving young people. Aspen's services range from short-term intervention programs to residential treatment, and include a variety of therapeutic settings such as boarding schools, outdoor behavioral health programs and special needs summer camps, allowing professionals and families the opportunity to choose the best setting to meet a student's unique academic and emotional needs.
Aspen Education Group is a member of CRC Health Group, the most comprehensive network of specialized behavioral care services in the nation. Since 1995, CRC Health has been achieving successful outcomes for individuals and families.
For more information, call (866) 515-5202 or visit the SUWS website at http://www.suws.com.
###