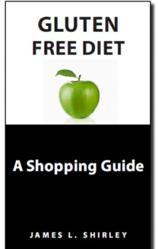 "I wrote this book to help simplify shopping for gluten-free groceries."
Denver, CO (PRWEB) May 05, 2011
Launching nationwide this month, a new book titled Gluten Free Diet: A Shopping Guide takes the hassle out of gluten-free grocery shopping. The book is like a compass for finding what you need in the grocery store. It provides a comprehensive list of commonly available gluten-free products in easy-to-understand sections. (Available May 8, 2011 for $14.95)
Chapters of the book are organized to match the typical layout of grocery stores. As you walk through the baking aisle, for example, you can quickly flip to the chapter titled "Aisles: Baking" and find a variety of gluten-free options.
With over three million Americans affected by celiac disease, and the number of people switching to a gluten-free diet on the rise, the market for gluten-free foods has grown substantially. However, shopping for gluten-free products is often difficult and time-consuming. The new book is sized to fit in a glove box, purse or even the back pocket of a favorite pair of jeans. Best of all, the book is easy to use.
"Eating gluten-free is essential for so many families like it is for mine," explains author James Shirley. "I wrote this book to help simplify shopping for gluten-free groceries."
Celiac disease is an autoimmune disorder caused by gluten. Gluten is a protein found in wheat, rye, and barley. For people with celiac disease, eating gluten causes the immune system to attack the small intestines which results in sickness and leads to a variety of other longer term problems.
Many people are turning to the gluten-free diet as a way to counteract health issues which have long gone unresolved. Regardless of why they follow the diet, more and more people need to know what products are gluten-free.
Whether you're new to the gluten-free diet or a seasoned veteran, Gluten-Free Diet: A Shopping Guide is the essential book for helping you find gluten-free groceries quickly and easily.
ABOUT THE AUTHOR
Author James L. Shirley was inspired to write the book because of his family's experience shopping for gluten-free groceries. His daughter was diagnosed with celiac disease in 2007 and, like most families new to the gluten-free diet, they struggled to be gluten-free and have variety in the menu.
Since his daughter's celiac disease diagnosis, James has exhaustively researched gluten-free products in grocery stores. He found that many common products are gluten-free, even if they are not labeled as such. The work started out as a way to make his family's life easier when grocery shopping and turned into a book he hopes will simplify the process for other families shopping gluten-free. James and his wife also started http://www.HappyGlutenFree.com, blog about the best of gluten-free living.
Gluten Free Diet: A Shopping Guide
By James L. Shirley
A book from Happy Gluten Free, LLC
On sale: May 8, 2011
Available at: Amazon.com and other online retailers
ISBN: 978-0615466767 Price: $14.95 Pages: 229
Book Website: http://www.GlutenFreeShoppingGuide.com
# # #