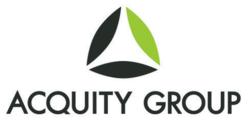 Chicago, IL (PRWEB) May 04, 2011
Acquity Group, a world-leading multi-channel commerce and digital marketing company, announced today that is has been recognized as one of the top four largest independent digital agencies by Advertising Age. The annual Ad Age 2011 Agency Report, now in its 67th year, ranks U.S. marketing communications agencies by revenue. Acquity Group's recognition on the "Top 50 Digital Agencies" list reflects its position as a company that integrates elegant design and technology expertise with comprehensive business strategy.
These capabilities, along with its expertise in helping brands develop and execute a global strategy, have led to Acquity Group's explosive growth. The company works with global brands in a variety of capacities from strategy to execution – such as designing and implementing a digital marketing strategy, providing them with an eCommerce platform that supports mobile and social and addressing new demand for their brand from consumers in emerging markets. Its current portfolio of global brands conducts multi-billion dollar eCommerce sales per annum in the North American market alone.
"We believe a global strategy is an important venture for brands looking to remain competitive in 2011," said Chris Dalton, President and CEO at Acquity Group. "There is immense opportunity for international brands to prosper here in the United States, with equal opportunity in foreign markets for American brands. We're very excited to play a role in specifically helping Chinese brands here in the United States, as well as with American brands in China."
Earlier this year Chinese brand, Li Ning, announced a strategic business venture with Acquity Group to expand its brand in the U.S. In addition to Li Ning, Acquity Group is currently working with several North American retailers about their untapped market potential across the globe, notably around expansion strategies in China.
Beyond earning recognition on Ad Age's Top Digital Agency list, Acquity Group has received other notable awards, including a Media Vanguard Award by Advertising Age, and recognition as a Top Mobile Developer by Forrester and Top Agency by BtoB Magazine. The company also has won Interactive Media Awards for a number of its website design projects, as well as several Horizon Interactive Awards for Excellence in Interactive Media.
For more about Ad Age's Agency Report 2011, visit their website.
About Acquity Group:
Acquity Group is the world's leading multi-channel commerce and digital marketing company, creating award-winning digital experiences for global brands. Our multi-disciplinary approach brings together strategy, design, and technology to create brand-unique experiences that build unbreakable customer relationships. Acquity Group is headquartered in Chicago, with offices across the U.S. and China. To define a unique perspective for your business, contact Acquity Group at http://www.acquitygroup.com.
# # #