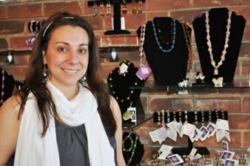 AJNA's mission is to resolve issues that diminish your enjoyment of life ...
Staten Island, NY (PRWEB) May 10, 2011
The health benefits of energy-harnessing therapies, such as Reiki and Feng Shui, are fueling a growing demand for qualified practitioners.
New Yorkers can take delight in AJNA, a center and wellness-products emporium located in Staten Island, N.Y.
Owned and operated by distinguished Reiki Master Valerie R. Gullo, the store at 1854 Hylan Blvd. offers a variety of wellness treatments for body and mind; Feng Shui-guided designs and adjustments for home and workplace; exclusive handmade therapeutic crystal jewelry, and wellness-enhancing products for bath, body and home. The store was previously located in the Staten Island community of Eltingville.
"The aim of our products, therapies and guidance is to enhance your quality of life," Ms. Gullo said. "AJNA's mission is to resolve issues that diminish your enjoyment of life, such as those negatively impacting health, happiness, finances, life's path, relationships and career."
Reiki, developed in Japan, encourages healing and stress reduction as the practitioner's hands influence the movement of energy within a client's body.
In addition to Reiki treatments, AJNA therapies include analysis and individualized treatment of your body's major centers of energy, known as chakras; personalized chromotherapy (color therapy) sessions, and other energy-harnessing therapies.
Mrs. Gullo's handmade therapeutic crystal jewelry may be purchased at the AJNA showroom or online at http://www.YourAJNA.com .
AJNA may be reached at 718-980-7272 or by e-mail at Valerie(at)YourAJNA(dot)com.
SOURCE: AJNA holisitc healing services and products
MEDIA CONTACT: BARTON HOROWITZ
RELEVANT PUBLIC RELATIONS LLC
HEADQUARTERS: 7186821509
MOBILE: 9177158761
EMAIL: Bhorowitz(at)RelevantPR(dot)com
# # #