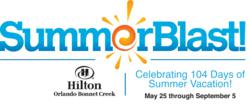 Orlando, FL (PRWEB) May 05, 2011
Visitors to Orlando will have another reason to celebrate this summer, as Hilton Orlando Bonnet Creek presents "SummerBlast!," May 25 through Sept. 5, 2011. This summer-long schedule of special events, activities and programs will celebrate 104 days of summer vacation.
The Summer Blast! program is for guests of Hilton Orlando Bonnet Creek, the newest resort in Orlando conveniently accessed inside the gates of Walt Disney World® Resort. In honor of this season-long program, Hilton Orlando Bonnet Creek is offering a summer bonus offer: a FREE one-day one-park theme park ticket for every two nights a guest stays under the "SummerBlast! Disney Ticket Package." (See hiltonbonnetcreek.com/summer for complete details). In addition, the resort is offering "Kids Eat Free" at Harvest Bistro, for breakfast and dinner (up to two child entrées with every paid adult entrée).
The summer-long schedule for SummerBlast! includes ongoing events, as well as special activities throughout the season. Highlights include:

SummerBlast! Pool Parties: Celebrate summer in style with our friends from a local radio network for kids! Join the crew for the summer's hottest hits, Orlando-inspired games, and special prizes, including a brand-new iPod! [Themed version: June 18, 25, July 9, 16, 23, 30, Aug. 6, 13; 12:30-2:30pm; Hilton Jamz version: May 28, June 4, 11, July 2, Aug. 20, 27, and Sept. 3. ]
Every Summer Blast! Themed Pool Party will be an event in itself, with a distinct theme, such as:
o Hawaiian Luau, with themed games, grass skirts, and even a special kids Hawaiian prize basket;
o Pirate & Princess Party, with its own special hunt and a gold necklace for a prize winner;
o Caribbean Beach Party, featuring up-tempo music and limbo dancing;
o Dance Party, including dance lessons and a sing-along (With a karaoke machine prize!)
SummerBlast! Scavenger Hunt: A fabulously fun hunt that can be completed any time during your stay! Find all of the clues and win a prize. One player will win our grand prize at the end of the summer – a $100 theme park gift card!
Ducktona 500 - The Great SummerBlast! Duck Race: You've got to see this to appreciate it! Every guest room will be given a rubber duck to "adopt" during our race around the Hilton Orlando Bonnet Creek lazy river pool! Winners will draw a special prize, which could include a return weekend stay at the resort! [May 28, June 4, 11, 18, 25, July 2, 9, 16, 23, 30, Aug. 6, 13, 20, 27, Sept. 3; weather permitting; 2:30pm]
SummerBlast! Dive-In Movie Nights: End the night with a family movie on our big screen, located poolside. Grab a lounge chair or relax while floating inside the pool. Enjoy popcorn or cotton candy… or a snack from BEECH. [Nightly, weather permitting; May 25- Sept. 5; See schedule for times]
SummerBlast! Arts and Crafts: Kids love to bring home souvenirs, and the recreation team will be ready to help them make something special to remember their visit. Current projects could include: Beach Bag Art, Treasure Box Creation, T-shirt Design, Color Me Bears, Backpack Art, Florida Gecko Craft, and Animal Art. [Arts and Crafts sessions daily, weather permitting. See schedule for exact activities and times – there is a fee for arts and crafts sessions.]
SummerBlast! Pool Activities: Our recreation team is ready to rock, making your summer a blast, with a full schedule including activities like mini-football games, water basketball, float races, Marco Polo, candy bingo, beach ball dodge ball, H20 Pac Man, line dance fun, hula hoop games, pool relay games, line dance fun, float races, etc. [Activities daily, weather permitting. See schedule for exact events and times]
Family Golf Clinic: The new Waldorf Astoria Golf Academy will feature family golf clinics throughout the summer, offering instruction for families who want to play golf together. [dates TBA]
Dining Promotions: We'll be ready to keep you taste buds hopping all summer long as well, with special seasonal menus additions at La Luce restaurant and Harvest Bistro. Other special F&B promotions include a special kids experiences at Harvest Bistro; summer barbecue breaks at BEECH; and even ice cream "happy hours" at MUSE sweet shop!
Specialty Weekends: Throughout the summer, we will feature several specialty weekends with additional activities or entertainment. For further details, visit the Hilton Orlando Bonnet Creek website.
o Memorial Day Weekend, featuring SummerBlast! Fireworks
o Cupcake Weekend (July 8-10), featuring activities with America's favorite snack
o BBQ Weekends (August 4-6; 11-14), featuring BBQ entrees at our restaurants, and special sessions
o Fourth of July Weekend, featuring SummerBlast! Fireworks
o Labor Day Weekend, featuring SummerBlast! Fireworks
Hilton Orlando Bonnet Creek offers the best of both worlds: a convenient "insider" location accessible from within Walt Disney World property and the peaceful serenity of the surrounding 482-acre nature preserve. Resort amenities include 1,000 elegantly appointed rooms and suites, a 3-acre Florida-style lazy-river pool, a Rees Jones-designed championship golf course, a luxe spa by Guerlain, a full fitness center, and nearly a dozen dining and lounge options, including the award-winning La Luce by Donna Scala.
Activities subject to change without prior notice. Weather permitting.
To make a reservation, please visit http://www.hiltonbonnetcreek.com/summer, or call 888-353-2013.
About Hilton Hotels & Resorts
One of the most recognized names in the industry, Hilton Hotels & Resorts stands as the stylish, forward thinking global leader in hospitality. From inaugural balls and Hollywood award galas to business events and days to remember, Hilton is where the world makes history, closes the deal, toasts special occasions and gets away from it all. The flagship brand of Hilton Worldwide continues to build upon its legacy of innovation by developing products and services to meet the needs of tomorrow's savvy global travelers while more than 144,000 Team Members shape experiences in which every guest feels cared for, valued and respected. Today, the Hilton Hotels & Resorts portfolio includes more than 540 hotels in 76 countries and the brand remains synonymous with "hotel." Access the latest Hilton news at http://www.hiltonglobalmediacenter.com or begin your journey at http://www.hilton.com. Social media users can engage with Hilton at http://www.twitter.com/hiltononline, http://www.facebook.com/hilton and http://www.youtube.com/hilton. Hilton Hotels & Resorts is one of Hilton Worldwide's ten market-leading brands.
About Hilton Worldwide
Hilton Worldwide is the leading global hospitality company, spanning the lodging sector from luxurious full-service hotels and resorts to extended-stay suites and mid-priced hotels. For 92 years, Hilton Worldwide has been offering business and leisure travelers the finest in accommodations, service, amenities and value. The company is dedicated to continuing its tradition of providing exceptional guest experiences across its global brands. Its brands are comprised of more than 3,700 hotels and 610,000 rooms in 82 countries and include Waldorf Astoria Hotels & Resorts, Conrad Hotels & Resorts, Hilton Hotels & Resorts, DoubleTree by Hilton, Embassy Suites Hotels, Hilton Garden Inn, Hampton Hotels, Homewood Suites by Hilton, Home2 Suites by Hilton and Hilton Grand Vacations. The company also manages the world-class guest reward program Hilton HHonors®. For more information about the company, visit http://www.hiltonworldwide.com.
###