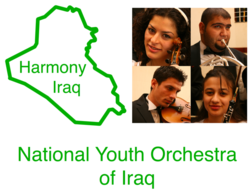 "I wrote this piece [A Reel of Spindrift] for the Iraq orchstra because it seemed such a wonderful opprotunity to make a gesture of support and active artistic contribution" - Sir Peter Maxwell Davies, Master of the Queen's Music
Cologne, Germany (PRWEB) May 04, 2011
The National Youth Orchestra of Iraq (NYOI) consists of musicians from all ethnic and religious backgrounds. They come together each summer for two weeks of intense musical training, learning to trust each other and work together.
A teaser video featuring footage from 2009 and 2010, as well as an interview from Sir Peter Mawell Davies, can be seen on the project's Kickstarter page.
"The orchestra is a complete paradox from top to bottom" says music director Paul MacAlindin. It exists thanks to Zuhal Sultan, a young Iraqi woman who, in 2009, advertised for a conductor to start up a youth orchestra in Iraq. Auditions are held on YouTube, and music lessons are done using Skype. Talented and experienced music tutors from around the world coach the musicians in the orchestra and give them valuable training that is otherwise simply missing in Iraq.
Sir Peter Maxwell Davies, Master of the Queen's Music, is the orchestra's honorary composer-in-residence. His new piece for the orchestra, "A Reel of Spindrift", to be premiered in Iraq this summer, is dedicated to Prince William and Kate Middleton on the occasion of their British Royal Wedding in 2011.
Iraqi composers Ali Authman and Mohammed Amin Ezzat will also have new works performed by the orchestra, making this year's event a bonanza of new orchestral music.
Harmony-Iraq is sending a film maker and camera crew to Iraq during the two week summer camp to collect the stories and experiences and assemble them on an interactive multimedia DVD. Pledges made via Kickstarter to Harmony-Iraq will enable the making of a DVD capturing the experience of the orchestra. The pledges will also provide funding of the orchestra itself, helping make the summer camp possible.
In order to increase awareness of the orchestra, the film, audio, and photos, and personal testimonials collected for the multimedia DVD will be distributed using a Creative Commons license.
About the filmmakers
The multimedia DVD and all other digital goodies will be produced by Cologne-based filmmaker Ulli Schauen and the German production company Lighthouse-Film. The creative minds at Lighthouse-Film are presently finishing a six-part-series of documentaries on high profile Turkish writers, among them Nobile Prize winner Orhan Pamuk.
About Open Goldberg Project
Open Goldberg Project is a U.S. based non-profit dedicated to promoting public domain and openly licensed musical and artistic works. http://kck/st/harmonyiraq
For further information or interviews contact Robert Douglass, +1 517 639 0204, or write to robert(at)opengoldbergvariations(dot)org
###