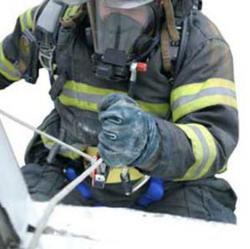 This firefighter gear has become as essential as a fire helmets and fire gloves for firefighters
Neptune, NJ (PRWEB) May 04, 2011
All Hands Fire Equipment, a New Jersey based provider of firefighter equipment, announces a significant increase by Fire Departments in the purchase of Firefighter Escape Systems and related Training.
"This firefighter gear has become as essential as a fire helmets and fire gloves for firefighters", said Donald Colarusso, who is an authorized instructor for many of the firefighter escape systems.
A Firefighter Escape System allows a firefighter to rapidly escape from an upper floor should the exit become cut off by fire or other obstruction. In such an instance a firefighter could use the firefighter escape system (or "bailout system") to escape danger in seconds!
A "system" meets National Fire Protection Association (NFPA) 1983-2006 standards, which defines components, testing and related requirements. This firefighter gear consists of an anchor, rope, a descender, a carry bag and a harness.
The "anchor" is a hook or carabiner that allows the firefighter to attach to a substantial object in the room – a wall stud, door frame or window sill. The "rope" is generally heat and cut resistant and can be made of Kevlar, Technora or similar materials and is usually 50-feet in length. A "descent control device" allows users to lower themselves to safety by controlling their descent.
The system is stored in a bag that is attached to a harness that the user wears on their firefighter gear. The "system" is attached to the harness, so the user is always attached or "in the system".
Firefighter escape systems came to the forefront of the fire service following the tragic events of what has been termed "Black Sunday". On January 23, 2005, two New York City Firefighters were killed and four were critically injured during a fire in the Bronx, when NYC firefighters were forced to jump from the fourth floor.
Today, firefighter escape systems have evolved and become a vital component to firefighter gear. Along with firefighter escape systems, training is also crucial to ensure that end users are competent and capable of deploying this firefighter equipment during an emergency.
"We expect the trend to continue", said Colarusso. "Our ability to help a fire department, from providing assistance in getting a grant (funding), all the way through to equipping and training firefighters, has made it much easier", he said.
To learn more about firefighter escape systems and training for this essential firefighter gear, visit http://www.allhandsfire.com/Firefighter-Escape-Systems
###