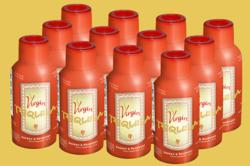 The lemon, lime and chili peppers mix give Virgin Tequila a spicy flavor for non-alcoholic drinks celebrating the Mexican American heritage.
Provo, UT (PRWEB) May 04, 2011
Bonavitas announces today the launch of its natural energy plus recovery drink, code name: Virgin Tequila, pack with 200mg of pharmaceutical grade caffeine that is comparable to three cups of premium coffee and some of the most powerful plants and superfruits on the planet.
This all-natural, non-alcoholic fusion of nature's finest awakens one's taste buds with renewed pep on the go. Capsaicin, the organic compound that makes chili peppers hot, is what gives Virgin Tequila its spicy, invigorating taste. Lemon, lime, moringa, neem and quercetin add a twist of tartness to balance the "bite" of the capsaicin mixed with honey for sweetness. These and the other primary ingredients give Virgin Tequila its spicy flavor as well as the ability to ignite the body metabolism and increase mental and physical intensity.
These natural ingredients improve the body's well-being in the following ways:

Lime and lemon are both known for their healing and detoxifying properties
Honey provides sweetness, while naturally increasing energy and nutritional value
Chili pepper boosts metabolism and mental focus, and gives added "zing"
"Using natural ingredients known for their fat-burning and energy-boosting properties, Virgin Tequila awakens your body and your taste buds," said Tommy Wilson, President of Bonavitas. "The lemon, lime and chili peppers give Virgin Tequila a spicy flavor of Mexican drinks, celebrating the Mexican American heritage."
Bonavitas prides itself on nutritional products that derive their power and benefit from natural sources. Our carefully chosen natural ingredients have demonstrated their superior healing, energizing and detoxifying properties through centuries-old practice and in numerous scientific studies. We have tapped into the power of these superfoods and made them the very foundation of our products, including Virgin Tequila.
ABOUT BONAVITAS
Headquartered in Provo, Utah, Bonavitas is a wellness company dedicated to the development and distribution of nutritional products that use science and natural ingredients for enhanced recovery, energy and overall fitness. Bonavitas chooses the nutrients and antioxidants that go into each product, based on scientifically supported benefits. Bonavitas offers a new approach to wellness – for everyone from bodybuilding professionals to moms on the go, fitness experts to weekend warriors and anyone with a pulse. http://www.bonavitas.com
###