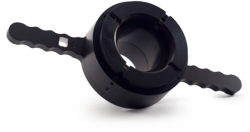 HyConn has such tremendous potential for both saving lives and achieving commercial success.
Bentonville, AR (PRWEB) May 04, 2011
Business incubation and acceleration specialists, 101 Ventures, recently entered into a partnership with Hy-Conn LLC, manufacturer of the "super-fast" Hy-Conn fire hose connector. Jeff Stroope, firefighter and inventor of the Hy-Conn, presents his invention to a panel of investors on the May 6th episode of ABC's "Shark Tank".
The Hy-Conn is the first significant innovation in fire hose connectors in over 100 years. Unlike traditional connectors, which can take as long as 30 seconds to install, the Hy-Conn connects fire hoses to a water source in less than three seconds. This "27 second difference" has a huge impact on the ability of firefighters to save both lives and property. Hy-Conn, LLC also offers a "Home Edition" product that allows for easy connection and disconnection of garden hoses.
101 Ventures Partner Matt Fifer looks forward to seeing the Hy-Conn on national television, remarking "We are extremely excited to be involved with an organization that has such tremendous potential for both saving lives and achieving commercial success."
Hailing from Cabot, Arkansas, Jeff Stroope is an experienced firefighter, machinist and entrepreneur. He has served communities as a firefighter, trainer, fire captain and as an assistant fire chief. Stroope now serves as a member of the Cabot Fire Department Dive Team as well as the Fire Captain and maintenance supervisor at the Remington Arms in Lonoke.
101 Ventures specializes in starting and growing high-performance businesses through a combination of leadership, capitalization and process optimization. Partner Mike Cockrell spent 30 years as a Walmart executive, rising to the rank of Chief Merchandising Officer at Walmart India before returning to Bentonville to help launch 101 Ventures. Co-Partners Matt Fifer and Jeff Clapper both have years of experience in starting, incubating and selling business with a portfolio of holdings that includes among other companies: 8th & Walton, Zapiddy and Technology 101.
For more information and a video demonstration of the Hy-Conn, visit http://www.hy-conn.com. For more information on 101 Ventures, visit http://www.101-ventures.com
###