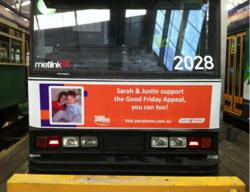 "It has really set a precedent as to what can be done to raise money for charitable events" - Garry Barnett
Melbourne, Victoria (PRWEB) May 14, 2011
Every year in Melbourne, Australia, the community bands together to raise money for the Royal Children's Hospital Good Friday Appeal (GFA) to support the ongoing care of sick, injured or disabled children. This year, Yarra Trams is currently running a fund-raising project, entitled GFA Tram Faces, to raise money for the GFA by selling advertising space on a selection of Melbourne's tram fleet, and Barney's Print Management was more than pleased to help the cause.
During the GFA, individuals and businesses, clubs, schools and country towns can be seen conducting billycart races or ferret and yabby races, holding a gala ball in a grand hotel, running a golf day or shaking collection cans.
The Appeal's strength lies in the thousands of volunteers who give of their time, expertise and creativity to ensure that events are successful and the rewards are great. The Good Friday Appeal is known for the fun, enthusiasm and ingenuity of all those involved.
(Src: goodfridayappeal.com.au, 2011)
GFA Tram Faces is a new fund-raising initiative by Yarra Trams, whereby advertising space on the front of over approximately 50 trams is sold to members of the community, with the proceeds being donated to the GFA.
People would pay the fee and then upload their photo to the Yarra Trams website. Their photo would then be printed onto self-adhesive vinyl sticker labels alongside the words "(your name) supports the Good Friday Appeal, you can too!", and installed onto the front of each tram for the public to see. It's an industry first, as the advertising space is usually reserved for major event advertising.
Yarra Trams has had a long standing relationship with Barney's Print Management, which is currently the only company that performs these kind of print installations for Melbourne's tram network. Garry Barnett is the founder of Barney's Print Management and he's always looking to expand his business into new and innovative printing applications, such as the GFA Tram Faces project.
"It was a really feel-good thing to be a part of," says Barnett. "I've been in this game for years, but I never imagined that me or my kids or anyone would have the chance to put their face on the front of a tram… ever… it's always reserved for major event advertising."
The process is called Variable Data Printing (VDP). VDP is a printing process whereby a variable image can be inserted into a common template to allow for custom printing applications. In this case, the variable image would be each donator's uploaded portrait.
Quick Print (MyPrintResource.com) columnist and industry consultant, John Giles, loves the potential applications of using VDP. "While many printers have the capability to do VDP, they fail to get out and sell the service to their customers," says Giles. "Without an outbound sales program that explains the benefits of VDP to customers and helps the customer prepare a good data file, a printer must wait for someone to come in and ask for the service and hope their data files work. A printer has to make a conscious decision to sell VDP services." (Src: Bob Hall, 2011, myprintresource.com/article/10239429/the-variables-of-vdp)
Thanks to Yarra Trams' innovation the GFA Tram Faces project has been a complete success, as all the allocated tram frontages have been solidly booked. The custom stickers have been up for two weeks and will remain installed for weeks to come. Garry Barnett is hoping it will become a regular annual initiative to support such a worthy cause.
"It has really set a precedent as to what can be done to raise money for charitable events," says Barnett.
As well as having your face plastered on a tram for the world to see, you can also use the Yarra Trams "Tram Tracker" iPhone application to locate "your tram" to catch a glimpse of your own philanthropic portrait.
"It's wide format digital printing with VDP, it's involving the community, it's for a charitable cause, and it's a novel idea," says Barnett. "It's just a great example of what Barney's is capable of and the values that we stand for."
Based in Melbourne, Australia, Barney's Printing are the print management specialists, providing total printing services for companies and businesses both in Australia and overseas.
To find out more about VDP, or to see what other printing innovations are available, please visit: http://www.barneys.com.au/ or call 1300 663 812 during office hours.
# # #