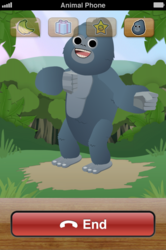 My daughter fell in love with 'monkey' … to her, he was real
New York, NY (PRWEB) May 09, 2011
Before they even learn to walk, children are now swiping and tapping their way across the entire catalogue of kids apps. From virtual tea parties to simulated phone calls with animals, the latest apps are shifting imaginative play from the toy box to the App Store.
With its most recent update on May 4, Animal Phone - the iPhone App For Kids, is winning over kids with realistic interaction, and parents with its ability to positively engage their children.
"My daughter fell in love with 'monkey' … to her, he was real," writes Heather Camacho, a stay-at-home mother and reviewer for AppAdvice.com, of her daughter's experience with the iPhone app Animal Phone.
Camacho noticed her daughter forming an emotional attachment to the character Graham Gorilla. "She tried showing him her toys and even took him with her when she was doing something naughty." In fact 'Graham' was so real to her daughter that "she told him to be very quiet while she was going where she shouldn't be."
The app Animal Phone lets children make pretend phone calls to talkative and touchable animated characters. Different from other character apps, Animal Phone presents children with a re-imagined phone book interface where they can make and receive calls. Animals even leave voice mails from time to time.
Heather Leister, known online as the blogger behind TheiPhoneMom.com writes of Animal Phone, "children will have the feeling that they're making and receiving calls on an iPhone."
Previously, young children invested their emotions in physical toys like teddy bears and dolls. But thanks to a strong sense of realism, digital characters like Graham Gorilla are finding a place in their hearts too.
Ross Sharrott, a Director at Long Weekend the publisher of Animal Phone, said of the new version "We wanted kids to make friends with the characters in Animal Phone, like the way we felt about our teddy bears as children. Based on parents' feedback, I think we've done it."
According to Dr Laura Kauffman on Education.com, a counseling psychologist specialising in supporting kids and teens, "research has shown that pretend play is very important for a young child's development," adding that "pretend play inspires the imagination and thinking skills."
Unlike games with structured levels and goals, apps that are believable and 'open ended' put children in the driver's seat. Kauffman says "pretend play naturally involves the question, 'And, what happens next?' If the right creative materials are available, the sky is the limit!"
Animal Phone is produced by Long Weekend and Conduct and is available on the Apple App Store.
# # #