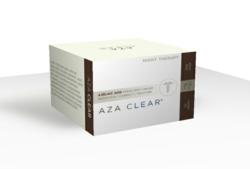 "A bold move forward in the OTC marketing of truly effective cosmetics or cosmeceuticals" -- Dr. Christopher Dannaker, Dermatologist, Assistant Professor UCSF
Los Angeles, CA (PRWEB) May 09, 2011
Azelaic acid cream is known as a powerful anti-inflammatory agent when marketed as an Rx cream for skin disorders such as acne, rosacea and skin pigmentation. AzaClear is a patent-pending high potency cosmetic azelaic acid cream that is available to patients through aesthetic physicians' offices. In addition, patients can now obtain the same cream through the company's web site, http://www.azaclear.com, but only with a physician's prescription. Azaclear brings the known cosmetic benefits of azelaic acid technology within easier reach of patients. In addition, Epikinetics Pharma llc states Azaclear, by complexing azelaic acid with niacinamide, make their product particularly effective for improving the appearance of problem and aging skin.
In some regards, Azaclear claims to best even the Rx pharmaceutical versions of azelaic acid cream.The unique patent-pending complexing of azelaic acid and the B vitamin, niacinamide, is said to eliminate skin irritation, something the Rx brands of azelaic acid have noted in clinical trials as a troublesome side effect.
Azaclear is also being distributed in Asia and the E.U., popular because it does not rely on hydroquinone to lighten dark pigmentation. Although hydroquinone is a popular skin bleaching agent in the U.S., most Asian countries and the E.U. ban the substance due to toxicity concerns.
According to Epikinetics Pharma llc, Azaclear was designed as a green cosmeceutical product too. Azelaic acid is derived from whole grain. Niacinamide, the other essential ingredient of Azaclear, is a form of naturally occurring B vitamin.
Epikinetics Pharma llc, in order to distance themselves from typical cosmetic manufacturing practices, requires Azaclear to be produced only in FDA registered and inspected facilities in the U.S.A., much like typical pharmaceutical manufacturing.
Epikinetics Pharma llc was founded by a dermatologist. The Azaclear formulation, unique in the crowed cosmeceutical market, required many years of clinical trials to perfect. It marks the introduction of physician driven cosmeceutical marketing that emphasizes product performance and quality, emulating more the pharmaceutical trade rather than what we've come to expect from the cosmetic industry.
###