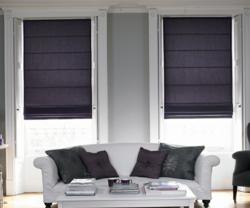 (PRWEB) May 06, 2011
Made to Measure Blinds are pleased to announce, their Made to Measure products will be featured on ITV1's daily interior design series; aired on the 5th May 2011.
People use blinds primarily to block light and provide privacy, but blinds also make a major impact on a room's design scheme. They are wonderfully versatile, coming in many different colours and styles, and as a result, are perfect for various types of rooms. These made to measure blinds, featured on the TV show 60 Minute Makeover, are both elegant and functional.
The Rocas Purple Roman blinds used offer a classy softness to a room, perfect for living rooms, dining rooms, and studies. Features include sidewinder control and a standard lining. The 60 Minute Makeover design team chose a single Rocas Purple Roman blind at a cost of £200.36. Its custom measurement spanned a width of 233 cm by a drop of 137 cm; this was an exact blind size for outside mounting.
Roman blinds weren't the only type necessary; the team also incorporated Alder White Wooden Venetian blinds. Traditional elegance with a light, airy touch, white wooden blinds often work well in kitchens and bathrooms. The Venetian blinds used in 60 Minute Makeover came in an exact blind size for outside mounting, with a width of 89 cm by a drop of 142 cm. The designers used three Venetian blinds, each costing £52.19, for a total cost of £156.57.
Time is of the essence on the program. Mindful of that, the suppliers delivered the made to measure blinds featured on the TV show 60 Minute Makeover with a turnaround time of a mere three days.
Since both the Roman and Venetian blinds mount outside the recess, installation required extra space and the team had to be aware of any objects near the recess that could have impeded the mounting process. The top of the blinds needed to fasten onto the brackets at a minimum of 4 cm above the recess and extend at least 4 cm on each side to keep out light and provide additional privacy.
Choosing new window furnishings is an important decision when changing the design scheme. The Made to Measure Blinds featured on the TV show 60 Minute Makeover, while very different types, each added a nice finishing touch to an updated room.
To view more of Made to Measure Blinds products please visit http://www.madetomeasureblinds-uk.com or call 0844 800 9204 to speak to a member of the team.
###