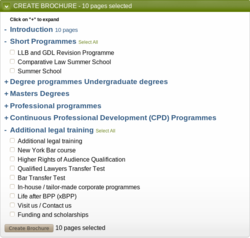 We've made a massive cost saving and at the same time, we're targeting our information more accurately.
(PRWEB UK) 5 May 2011
As one of the UK's largest professional training organisations, BPP produces vast amounts of course content and general information. Realising the need to streamline their communications and efficiently deliver the right content to the right people, BPP approached ReportLab to develop a bespoke document solution. Now, with ReportLab's Binder application, prospective students can visit bpp.com, tick a few boxes and immediately take away a fully personalised document on demand.
By serving customisable documents online, BPP has drastically reduced printing while providing students with easier access to the information they need. "At a stroke, we've solved a number of problems with the old style university prospectuses," said Craig Hurring, head of brand at BPP. "We've made a massive cost saving and at the same time, we're targeting our information more accurately."
Behind the scenes, Binder rearranges the contents of a static document according to a particular user's choices. The document is immediately available to be downloaded, viewed as a flip-book, or emailed to a friend, and each is professionally finished with a dynamic table of contents and automatically generated page numbers.
ReportLab CEO and chief architect Andrew Robinson said, "With a decade of experience generating customised PDF documents on demand, we believe no other company has the expertise to develop a system like this."
ReportLab's customised prospectus system is already in place for BPP's Law and Business schools and will be further rolled out with enhanced functionality throughout the year.
To learn more about Binder, visit http://www.reportlab.com/solutions/binder/.
About ReportLab:
ReportLab is a London based software company and a respected name in the Open Source software community. ReportLab's PDF tool-kit is used across the world in thousands of systems including those for Hilton Hotels, Fidelity Investments, and Wikipedia.org.
Media Contact:
Thomas Drake
ReportLab Europe Ltd.
+44 (0) 20 8545 1570
http://www.reportlab.com
# # #