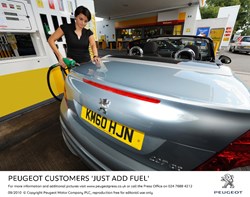 (PRWEB UK) 6 May 2011
With figures from the AA revealing a startling 40 per cent rise in motor insurance costs in the last year and average annual premiums predicted to exceed £1,000 by the end of this year, motorists may well be wondering just how they can afford to buy that new car.
Thankfully, Peugeot has the antidote in the form of its unique Just Add FuelTM new car ownership package, which fixes all the major costs associated with running a car for three years, bar the fuel, as its name suggests.
Just Add FuelTM is a package that allows Peugeot customers to buy or lease a car depending upon each customer's individual preference and includes the costs of comprehensive insurance, warranty, servicing, breakdown cover and road tax in with the package. The customer pays a simple, monthly amount that is fixed for the three year period of the plan, leaving them with nothing to pay for, except the fuel.
The result is an exceptionally easy way to run a car, excellent value and protection against increasing costs for three years.
You can pick up the compact, lively Peugeot 207 Access with Just Add FuelTM for just £159 a month, after an initial 'deposit' of £1,651. The all new 308 Access can be driven away for an initial payment of £2,000 followed by payments of just £235. The multi-award winning Peugeot 3008 crossover costs just £379 a month, with a £2,000 initial payment.
Commenting on the AA report costs, Neil Moscrop, Sales Director at Peugeot UK said: "It is obviously a huge concern for all of us in the motor industry when rising insurance costs undermine people's ability to run the car they want. Hopefully the new regulations on how lawyers handle personal claims will help reduce that element of cost in the longer term but, in the meantime, we're glad to be able to help with Just Add FuelTM.
"However you look at the figures, Just Add FuelTM looks fantastic value today but when you consider how insurance costs are expected to rise, fixing those costs for three years could well prove a sound financial decision. And that's on top of the peace of mind that comes with knowing everything is paid for."
For details of the range of vehicles available including electric cars on Just Add FuelTM, visit http://www.peugeot.co.uk or contact your local Peugeot dealer.
To obtain high resolution downloadable images of the Peugeot range and further information log onto the Peugeot Press website: http://www.peugeotpress.co.uk (Newspress passwords apply)
Press Contacts
Andrew Didlick \ +44 (0)24 7688 4309
Andrew.didlick(at)peugeot(dot)com
Mobile +44 (0) 7836 362859
Ian Sedgwick \ +44 (0)24 7688 4216
ian.sedgwick(at)peugeot(dot)com
Mobile +44 (0) 7881 500617
Kevin Jones \ +44 (0)24 7688 4215
kevin.jones(at)peugeot(dot)com
Mobile +44 (0)7880 786596
Craig Morrow \ +44 (0)24 7688 4261
craig.morrow(at)peugeot(dot)com
Mobile +44 (0)7747 764745
Janet Brace \ +44 (0)24 7688 4257
janet.brace(at)peugeot(dot)com
Mobile +44 (0)7798 607896
###