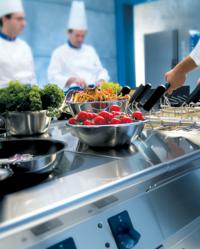 We are really enthusiastic about the launch of the new Induction Cooking Equipment Forum.
(PRWEB UK) 6 May 2011
The inaugural Induction Cooking Equipment Forum will take place on Friday 10 June 2011 at The Park Lane Hotel, London from 09:30 – 14:00.
Created by the Catering Equipment Suppliers Association (CESA), in collaboration with the British Hospitality Association (BHA) and Caterer & Hotelkeeper magazine, the new one-day interactive event is a 'must-attend' for all industry professionals that use, are associated with, or want to learn more about, induction technology and its benefits.
Through a combination of presentations, tailored workshops, exhibitor demonstrations and an induction kitchen tour, attendees will gain a greater understanding of induction equipment, how it works, its benefits, and how to get the most from it.
The forum will be advantageous for a wide variety of industry professions – including chefs, operations managers, suppliers, specifiers, facilities managers, operators, induction users and educators. The comprehensive programme allows delegates to choose the workshops relevant to their individual circumstances and requirements, ensuring they can maximise their forum experience.
Topics that will be covered within the programme include:

Using induction
Cooking benefits for operators and flexibility of use
History of induction
Health and safety issues
Energy saving capabilities
Labour and time saving benefits
Improving the working environment
Appropriate equipment
Design and specification
Selling induction to customers
Keith Warren, CEO of CESA, comments: "We are really enthusiastic about the launch of the new Induction Cooking Equipment Forum. There is a demand for more information about induction technology and the forum's customised programme of presentations, workshops, demonstrations and exhibitors responds to this. All delegates will receive the specific tools they need to fully understand the induction method of cooking, the equipment available, and how to maximise its potential."
Ticket prices start at £75 plus VAT. For more information on the event visit http://www.mcculloughmoore.co.uk/cesa or call 01293 851 869.
The Catering Equipment Suppliers Association (CESA) is the authoritative voice of the catering equipment industry, representing over 150 companies who supply, service and maintain all types of commercial catering equipment - from utensils to full kitchen schemes. For more information on CESA visit http://www.cesa.org.uk
###