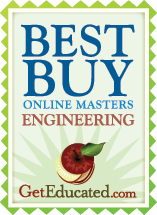 "GetEducated.com is pleased to publish this ranking list of affordable online degrees in an effort to help engineers and technicians nationwide find low cost, high quality distance learning programs." - Vicky Phillips, Chief Online Education Analyst
Essex Junction, VT (PRWEB) May 04, 2011
Get Educated, the consumer's guide to the best online colleges, http://www.geteducated.com, as rated for cost and credibility, has released its 2011 rankings of the top affordable online engineering degrees nationwide.
The online university rankings were derived from a nationwide survey of 57 regionally accredited engineering schools or allied technology career discipline schools offering a total of 213 online engineering masters or allied graduate degrees.
According to the online education survey, the cost range for a distance engineering masters or masters in an allied technology career area spanned from just over $5,000 to more than $91,000.
The average cost, inclusive of distance learning fees, which often represented a significant portion of total online learning program costs, was $26,400.
The top 3 Best Buys in online engineering masters came from traditional public research universities which also operate residential graduate schools. State residents, in all 3 of the top ranked cases, receive the best tuition deals on distance learning engineering degrees.
1. East Carolina University – Online Masters Software Engineering ($5,070)
2. Oklahoma State University – Online Masters Electrical and Computer Engineering ($7,030)
3. Oklahoma State University – Online Masters Industrial Engineering and Management ($7,255)
The top 3 most expensive online engineering masters in the distance learning cost survey came from brick and mortar private universities which operate top-tier engineering schools:
1. Massachusetts Institute of Technology ($91,1000)
2. Columbia University ($49,900)
3. University of Southern California ($52,900)
To be ranked as a Best Buy, the degrees surveyed had to be offered by regionally accredited universities and objectively cost significantly less than the national average. Of the 37 online schools that made the best value rankings 32 were public universities. Only one operated as a for-profit.
"Clearly, public research universities offer the top ranked bargains in engineering distance learning today," says Vicky Phillips, Get Educated's Chief Online Education Analyst. "GetEducated.com is pleased to publish this ranking list of affordable online degrees in an effort to help engineers and technicians nationwide find low cost, high quality distance learning programs."
Complete profiles of 278 engineering distance learning programs are available inside the consumer research firm's free online degree directory.
About: GetEducated.com, founded in 1989, publishes objective online university rankings along the dimensions of online college cost and credibility. The Get Educated consumer guides to the best online colleges feature real student reviews of accredited online degree programs.
CONTACT: Vicky Phillips, Online Learning Analyst, Get Educated, Essex Junction, VT. 05452. 802-899-4866. Email: Vicky (at) geteducated.com. Website: http://www.geteducated.com
###