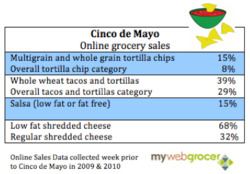 Colchester, VT (PRWEB) May 04, 2011
According to MyWebGrocer, the leading provider of digital grocery solutions, shoppers are choosing healthier alternatives within many traditional food and cooking categories for Cinco de Mayo.
Based on online sales data collected the week prior to Cinco de Mayo in 2008, 2009 and 2010, sales went up for many healthier food items:

Sales of multi-grain and whole grain tortilla chips grew at a faster rate than the overall tortilla chip category: where sales of the multi-grain variety were up 15 percent last year over 2009, overall, sales in the tortilla chip category rose 8 percent.
Whole-wheat tacos and tortillas also grew at a faster rate, with sales spiking at 39 percent last year, and plain tacos and tortillas seeing only an increase of 29 percent.
Salsa, a popular nutritious item for many Mexican dishes, is typically either low fat or fat free. Salsa saw a 13 percent growth from '08 to '09, and a 15% growth from '09 to '10.
Low fat shredded cheese is clearly a go-to healthier alternative for many, with sales more than doubling that of regular shredded cheese (68 percent sales growth from '09-'10 vs. 32% sales growth from '09-'10, respectively).
About MyWebGrocer:
MyWebGrocer drives digital connections between consumers, grocery retailers, and Consumer Packaged Goods brands. MWG creates and manages digital solutions for clients including websites, digital media, online circulars, email marketing initiatives, mobile applications, social media strategies, and customer acquisition programs. MyWebGrocer works with more than 110 retailers nationally, representing more than 10,000 stores, and 90 major consumer packaged goods brands. All metrics seen above are based on MyWebGrocer online sales data collected the week prior to Cinco de Mayo in 2008, 2009 and 2010.
###