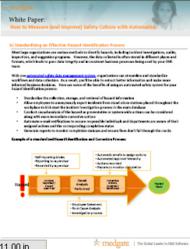 "I wrote this article to offer a tangible solution for companies that are looking to zero in on what exactly they can do to measure and track safety performance and thus promote a positive safety culture within their organization."
- John Easton
(PRWEB) May 05, 2011
In a new article published in the April online edition of Occupational Health and Safety (OHS) Magazine, Medgate's Product Manager and safety expert, John Easton, examines how to improve safety culture at an organization by measuring 'finding and fixing' performance.
The article, titled "A Solution to Measure (and Improve) Safety Culture" examines how to track and assess safety culture within an organization by measuring 'finding and fixing' using an automated safety management system. Easton explores the topic by focusing on the ways the ways in which such a system can be leveraged to support three main components of good finding and fixing:

How a single, automated database improves finding and fixing
How to promote and understand a healthy balance between finding and fixing
Standardizing an effective hazard identification and collection process
Effectively prioritizing actions based on risk
"Safety culture is a hot topic for many of today's organizations, and there is little doubt that a positive safety culture helps companies achieve their ultimate goal of achieving improvements in safety performance," states John Easton, author of the article. "However, safety culture is an elusive, often poorly measured objective, and without measurement it is difficult to gauge performance and progress. I wrote this article to offer a tangible solution for safety professionals and managers that are looking to zero in on what exactly they can do to measure and track safety performance and thus promote a positive safety culture within their organization."
The article is also published in full (including graphics and additional resources) on Medgate's website and can be downloaded at http://www.medgate.com/res_white_safety_culture.asp.
John Easton is a Canadian Registered Safety Professional and MHSc (Industrial Hygiene). He currently works as the Product Manager at Medgate Inc., a leading provider of integrated Health and Safety Software Solutions. He previously worked for 12 years at Toyota in various Health & Safety roles including Assistant Manager Safety as part of the Toyota North America Safety team, and in prior roles as Safety Specialist, Project Lead for Toyota Safety Management System, and Industrial Hygienist,.
About Medgate Inc.
Medgate™ (http://www.medgate.com) is the global leader in occupational health and safety software. Medgate's Occupational Health, Safety, Industrial Hygiene and Environmental software products have the most comprehensive functionality and user-friendly design in the market. Available in multiple languages, Medgate software is used across the globe in hundreds of the best known corporations and government entities. More information can be found at http://www.medgate.com.
The Medgate safety software suite provides organizations with the capability to document unsafe acts, unsafe conditions, and near misses; run facility audits; prepare monthly, quarterly and annual safety program reports; and, identify trends and manage corrective actions at a facility, divisional, regional or global level.
###