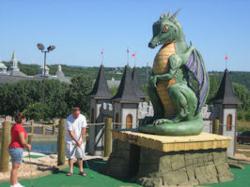 The mini golf tournament features special events for teams, seniors, and women with a total of $8,000 available in prize money.
Branson, MO (PRWEB) May 10, 2011
Thanks to the USPMGA (The US Pro MiniGolf Association), miniature golf can be more than a vacation past-time. To be considered a legitimite sport however most Americans would agree that the best of the best need to compete and corwn a champion. Accordingly, The 2011 US Open Miniature Golf Tournament, an official event of the USPMGA, will be held at Greatest Adventures Mini-Golf in Branson, Missouri on Friday, May 13th, 2011.
Professional and amateur miniature golfers alike from locations far and wide such as the Czech Republic and Pakistan hope that the day brings them good luck instead of the usual superstition associated with Friday the 13th. The three-day event welcomes visitors and participants with an opening day breakfast and practice. The mini golf tournament features special events for teams, seniors, and women with a total of $8,000 available in prize money.
The entry fee for the U.S. Open is $120.00, but entry fees for teams, amateurs, and others as guests are affordably priced from $20 to $35. Competitors and visitors will enjoy the two 18-hole courses and the recently opened course that was completed in 2008. Greatest Adventures Mini-Golf was selected from a list of 500 candidate mini-golf courses and is located conveniently at 4800 Gretna Road in Branson near the entrance to The Shoppes at Branson Meadows.
Branson, Missouri, an eclectic town located in southwest Missouri and approximately 170 mi (273.6 km) from the state capital is a common tourist location owing to its famed festive country music scene on Country Music Boulevard, its family friendly and tourist friendly museums and wineries, and its nearby attractions such as the Silver Dollar City amusement park, The World's Largest Titanic Museum, Table Rock Lake, and Dolly Parton's Dixie Stampede dinner theater.
As an alternative to the typical hotel experience, Branson also features several spacious and very authentic Branson cabins such as the new Cabins at Grand Mountain, which provide close proximity to the mini golf events and retain all of the amenities generally associated with hotel comfort including central heating and air conditioning, a romantic fireplace, high speed Internet, premium cable television, and even a Jacuzzi spa on a private deck.Additional information about the tournament, convenient accommodations, and schedule information can be located either at the Greatest Adventures Mini-Golf website or the website of the U.S. ProMiniGolf Association, http://prominigolf.com/usschedule.html.
###