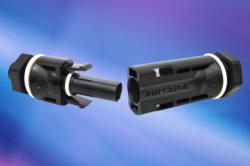 This new RoHS compliant connector is ready for field assembly and is UV and ozone resistant.

Sidney, NY (PRWEB UK) 6 May 2011
Amphenol Industrial, a global leader in interconnect systems, has recently introduced the Helios H4 Panel Connector, a panel mount photovoltaic (PV) connector featuring RADSOK technology. This new connector offers higher current ratings and lower contact resistance resulting in lower power losses. Its compatible with standard industry connectors, including Amphenol's Helios H4 line, for easy integration.
Amphenol's new H4 Panel Connector has been developed to help feed power from a solar panel into an inverter or combiner box, features quick snap lock mating for easy panel mount installation and termination to either box.
Designed for applications that use solar inverters, combiner boxes and installers, the H4 Panel Connector is dual-rated for UL and TUV. It meets NEC 2008 requirements without the need for extra locking collars or locking sleeves and is available in three different gauges including 14 AWG rated at 36 A, 12 AWG rated at 45 A and 10 AWG rated at 52 A.
European PR Contact: Jennie Tovey
TOVEY PR
21 School Lane, South Cerney, United Kingdom GL7 5TY
Tel : +44 (0)1285 869848
E-mail: jennie(at)toveypr(dot)co(dot)uk
Reader Enquiries please to: Silvana Allegra
AMPHENOL INDUSTRIAL OPERATIONS EUROPE
Via Barbaiana n.5, I-20020 Lainate (MI), Milano, Italy
Tel : +39 02 93254.204 Fax : +39 02 93254.444
E-mail : sallegra(at)amphenol-aio(dot)com
http://www.amphenol-industrial.com
For more information, please visit http://www.amphenol-industrial.com or e-mail epower(at)amphenol-aio(dot)com.
For high res download and full text:
http://www.simongroup.com/PressRoom/press-release.php?Job=APL-A-4974
For more news releases: http://www.simongroup.com/PressRoom/amphenol.php
Subscribe to Amphenol Industrial Operations' RSS feed.
Notes for editors: Amphenol Industrial Operations, headquartered in a 675,000 square foot facility in Sidney, N.Y., provides a full range of high reliability connectors and interconnection systems specifically for the industrial markets including base stations, rail/mass transit, process control, automotive manufacturing, heavy equipment, and petrochemical/power generation.
Products include ruggedized-for-industry cylindrical, fiber optic, rectangular, and industrialized versions of Amphenol's MIL-C-5015 cylindrical, MIL-C-26482 miniature cylindrical and GT reverse bayonet cylindrical connectors. It employs more than 1,400 people and is both ISO9001 and MIL-STD-790 certified.
Amphenol Industrial Operations is a division of Amphenol Corporation, Wallingford, CT, one of the largest manufacturers of interconnect products in the world, with year 2006 sales topping $2.5 billion.
###