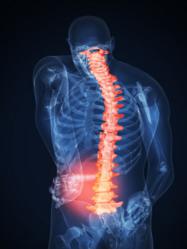 "When I was in School, I was taught that there was nothing that could be done after spinal fusion surgery. But, that's no longer valid."----Dr. Paul Kramer
Menomonee Falls, WI (PRWEB) May 12, 2011
There have been four major scientific studies that show spinal fusion surgery can be ineffective and harmful to patients. One of the studies that appeared in the journal, Spine, reported that patients who undergo this surgery, return to equivalent pre-operation pain levels, within two years. (SPINE 2001;26:2521-2532) Because of these studies, surgeons are re-evaluating the appropriateness of spinal fusion for back pain.
But what if you already had the surgery and it failed? For most patients, it can mean a life dependent on drugs, losing time from work, losing family enjoyment and more surgeries.
Most people do not know that there are non-drug, non-surgical options that can help with pain after surgery.
"When I was in school, I was taught that there was nothing that could be done for patients after spinal fusion surgery," says Dr. Paul Kramer. "But, that's no longer valid. Advances in spinal manipulation therapy make it possible to address the causes of the pain and get the patient the relief they want."
A typical failed back surgery patient has swollen discs, joints and muscles. The swelling causes a great deal of pain. "The first step is to get the swelling down. Drugs by themselves don't often do the job, so other alternatives should be considered." says Dr. Kramer
"The second step is to get the pressure off the nerves in the low back." This includes treating areas where nerves are compressed by damaged discs. It also includes treating areas where nerves are stretched. "Many surgeries fail because they don't address situations where the nerve tissue is stretched. Surgeries can only take pressure off compressed nerves. If it is stretched, the surgery won't do any good." The procedures Dr. Kramer performs, allows the spinal cord, nerve roots, and other nerve tissue to slacken, providing relief of symptoms.
"Before seeing Dr. Kramer I had exteme lower back pain with shooting pains down my leg. I couldn't stand up straight, and had difficulty walking," says a recent patient. "I couldn't work. I sought out many different treatments before chiropractic, including: family doctors, orthopedic surgeons, massage therapy, yoga, physical therapy, "Back School," sports doctors, and emergency room doctors. The best result I ever got was temporary relief. Back surgery helped for a few years, but this last episode of back pain was the absolute worst. Dr. K. gave me hope and told me to be patient. He took time to explain what was happening, and how to fix it; and, it made sense. Within a month I noticed the pain subsiding. I can now work. I can stand up straight. I sleep eight hours a night, on most nights. Today I am almost completely pain free. I have my life back again, with no real restrictions--just precautions."
Dr. Kramer offers a free report on Back Pain, Sciatica, Degenerative Disc Disease and Spinal Stenosis. It explains the common causes of these conditions and what can be done about it, even if you have had surgery. To get a copy, log on to http://www.newbackpainreliefinfo.com.
Dr Paul Kramer is a chiropractor practicing in Menomonee Falls, Wisconsin, for over fifteen years. After looking for better methods of practicing chiropractic, he studied the techniques he uses today. The method was developed in a collaborative effort by chiropractors, neurosurgeons and engineers. He likes the consistent, lasting, pain relieving effects. His office is designed to be comfortable and convenient, so patients enjoy coming to see him. For more information about him, log on to http://www.painfree-greatposture.com
###