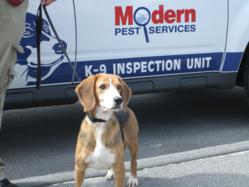 Brunswick, Maine (PRWEB) May 06, 2011
Modern® Pest Services is pleased to announce that it has a new four-legged warrior in its fight against bed bugs, Sherlock, its first bed bug detection dog. The addition of the dog takes the company's bed bug program to a new level and is part of the ongoing expansion of that program in response to the national bed bug outbreak. Sherlock will service Modern's coverage area in Maine, New Hampshire and Massachusetts.
Sherlock, a two and half year-old beagle, was trained in scent detection at J&K Canine Academy in High Springs, Fla. He and his handler, Anthony Silva, who received training at Von Liche Kennels, will be deployed to detect live bed bugs and bed bug eggs in homes, apartment buildings, office spaces, hotels, retail shops, schools, public transportation, and healthcare facilities, virtually anywhere people live, work and congregate.
To view a video of Sherlock on a training mission click here http://youtu.be/lLOBHcRT8Ms.
Using bed bug detection dogs like Sherlock is much more efficient than traditional detection methods, as they are able to inspect an entire room in a matter of minutes with little disruption, and they can accurately pinpoint where the pests are located with their advanced sense of smell. Once an infestation is confirmed, Modern offers heat treatment to eliminate the bed bugs.
"With only a handful of detection dogs available in the New England area, the addition of our new bed bug detection dog allows us to ensure the utmost in pest protection and peace of mind for our residential and commercial clients," said Modern Pest Service's co-president and Chief Operations Officer Scott Stevenson. "We look forward to growing our bed bug program even more in the years to come."
Silva, an experienced dog handler recently joined Modern Pest Services. With a lengthy background handling specially trained dogs in security and pest related situations, Silva has spent the past year in Kabul and Kandahar, Afghanistan working with Explosive Detection dogs. He graduated from Saugus High School in 2004, and went on to gain certification in Explosive Detection dog handling from Vohn Liche Kennels in 2009. Silva also spent three years working as Explosive Detection dog handler at Securitas Security Services. Silva will work out of Modern Pest Service's Woburn, MA office.
For more information please visit http://www.modernpest.com
Contacts:
Angie Helton, Northeast Media Associates
(207) 653-0365, nema(at)maine(dot)rr(dot)com
About Modern® Pest Services
Modern® Pest Services is a third-generation family-owned and operated pest control company, established in 1945. It has been a leader in the industry from its beginning. Modern employs integrated pest management (IPM) practices in all operating activities and offers commercial and residential pest control services, a comprehensive bed bug program including canine inspections and heat treatment, termite control and wildlife services. Modern is recognized by the National Pest Management Association for meeting the established standards of a QualityPro company and is one of only 21 pest control companies in the U.S. to be recognized by the EPA for its green pest control and organic pest control programs. For more information, please visit http://www.modernpest.com.
Modern® Pest Services is a Copesan® alliance partner and a member of the National Pest Management Association, the New England Pest Management Association, the Entomological Society of America, the American Society of Quality, and many local Chambers of Commerce. Headquartered in Brunswick, ME with service centers in Portland, Bangor and Augusta, as well as Woburn, MA, and Manchester, NH, Modern serves more than 10,000 customers throughout New England.
###