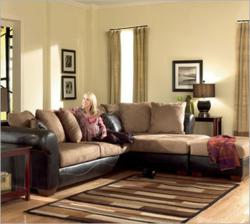 We go the extra mile to answer our customers' questions and help them find the perfect furniture solution for their homes.
Golden, CO, and Halladale, FL (PRWEB) May 05, 2011
SofasandSectionals.com, known for high quality living room furniture like reclining sofas and leather sectional sofas has teamed up with a major furniture manufacturer to provide high quality furniture at low prices under the InteriorMark Private Label brand. Cheer on your favorite team while comfortably lounging on a brand new reclining sectional or recliner sofa that will not drain your wallet.
In-house brands, like InteriorMark Private Label, are all about exceptional deals. They cut out the middle man and deliver the absolute lowest price to the consumer. The products under this brand retain their value with high quality materials, excellent craftsmanship and a comprehensive manufacturer's warranty. Everyone will enjoy the deep comfort of thick padded cushions held up by a solid hardwood frame as they enjoy a movie or the big game. In addition, SofasAndSectionals.com has a friendly and knowledgeable team of Sales Professionals that are experts in their field. They can answer any questions about the large collections of living room furniture on the SofasAndSectionals.com website.
"Our Sales Professionals have decades of combined experience in the furniture industry," said Bill Lorden, Director of Sales for InteriorMark, LLC. Lorden went on to say, "We go the extra mile to answer our customers' questions and help them find the perfect furniture solution for their homes. We even send upholstery samples so people can see how they look with their room décor."
Their commitment to customer service focuses around a few timeless principles. In addition to pleasing loyal customers everywhere with the most luxurious living room furniture anybody could ever want, they also provide an intuitive and easy to use shopping interface. Customers can log in and purchase their ideal piece of furniture in a matter of minutes. They also offer incredible warranties and guarantees and even offer Free Shipping, something that many online furniture sites still do not do. On top of all that they carry many of the best furniture brands in the country, like Palliser, Catnapper and Jaymar, to name a few.
About SofasandSectionals.com – SofasandSectionals.com is a division of InteriorMark, LLC, who is the leading online retailer of home furnishings such as sofa and sectional collections, home theater seating and accessories, entertainment centers, bedroom furniture and home accessories. InteriorMark, LLC specializes in providing high quality furniture choices for home living spaces, bedrooms and dedicated home theater spaces. InteriorMark, LLC is a member of the Western Home Furnishings Association and National Home Furnishing Association, and is proud to be an A-rated member of the Better Business Bureau.
# # #