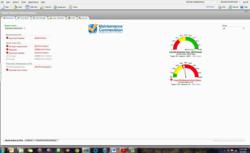 Davis, CA (PRWEB) May 05, 2011
Version 5.0 includes many new features, as well as customer requested enhancements to existing functionality. One feature and enhancement to note is the addition of a project plans module that automates the generation and scheduling of a group of associated work orders defined for a common project, allowing users to define dependencies between work orders if required. This feature allows organizations to define a project template for recurring projects and simply regenerate project plans whenever needed.
Reporting enhancements allow users to now export reports directly to PDF. The exported PDF is automatically opened in a browser, allowing you to "Save" or "Print". New options are available to create multi-series displays for charts. Using bar charts, area charts, line charts, or radar charts, users can display data examples for work order count, target hours, and actual hours for different work order types. Or perhaps a user needs to create a stacked bar chart for summarizing labor and material costs for different work order types.
A number of new features in Version 5.0 will enhance the flexibility and capabilities of the Work Order Module. Extensive preferences have been added for users to customize the appearance of the printed work orders. A significantly faster and more flexible method for adding parts when closing a work order is available. In addition, users will also find new features available for creating follow up work orders for failed tasks when closing a work order.
Version 5.0 includes several enhancements to the Purchase Order Module. A new approval process is available that allows you to define required approval levels based on the total amount of the purchase order. You can define up to five different approval levels for each Repair Center. A new "Approval Status" section provides a clear indication of which levels have been approved, and which still need approval. Extensive new preferences are now available to configure the Purchase Order Report to better reflect the needs of your organization.
Some additional general enhancements include Background Processing for Manual PM/Projection Generation, Extra Password for Delete Confirm, and New Recipient Options in the Rules Manager.
Maintenance Connection's maintenance software connects maintenance personnel to extend asset lifecycle, track maintenance costs, prevent and predict equipment failures, improve labor productivity, reduce costly equipment downtimes, minimize investments in inventory, and lower the total cost of maintenance. Our unique combination of cutting-edge CMMS/EAM technology and emphasis on service excellence for customers has led to thousands of satisfied users worldwide.
For additional information please call 888-567-3434, or contact sales(at)maintenanceconnection(dot)com
###