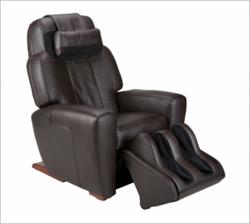 Human Touch massage chairs come with pre-programmed massage routines that are designed to loosen and relax muscle groups
Golden, CO (PRWEB) May 09, 2011
Heart disease is widely known as one of the biggest killers in the U.S., and it is no wonder why. Many Americans are working way too much these days, not eating healthy enough and not sleeping enough. As for exercise and adequate sleep? Well, people tend to not get enough of either. What about massages? Now, that sounds promising. Getting a weekly massage reduces cortisol levels in the blood stream, reduced cortisol levels are linked to reduced inflammation, fewer blockages in our arteries, and a happy heart that doesn't have to work so hard. Unfortunately, most people don't have the time or money to get weekly massages. What to do?
TheaterSeatStore.com, widely renowned for achieving the highest industry standards in service and selection for home theater seating, has considered this problem and now has a great solution. As part of their catalog, they are now featuring Human Touch patented massage chairs. This is theater seating at its absolute apex, and with models starting at around $1,000, they won't break the bank. Compare that price to an average massage at 45 – 50 dollars a week and the potential savings are readily apparent.
Human Touch massage chairs come with pre-programmed massage routines that are designed to loosen and relax muscle groups. This in turn causes blood vessels to dilate and allow excess blood to circulate. Additionally, deep tissue massage techniques loosen muscle knots and scar tissue allowing fresh blood to flow through the area and clean out toxins. Some models even have calf and foot massagers in the footrest to promote lower leg circulation and prevent blood clots. One model in particular, the HT-9500 Acutouch™, even has an iPad® app that allows you to target specific muscle groups with pinpoint accuracy.
The best part is, Human Touch massage chairs make fantastic home theater seats. Many models feature cupholders and other conveniences that make movie or sports watching an absolute pleasure. The next time you're flopped out in front of the latest movie release on cable after a grueling week on the job, you can ease back, relax, and reduce your risk of heart and cardiovascular disease as you zone out and finally float gently into slumber land.
About TheaterSeatStore.com – TheaterSeatStore.com is a division of InteriorMark, LLC, who is the market leading retailer of home theater furniture products, entertainment furniture, massage chairs, sofas and sectional sets and bedroom furniture. The company offers a wide range of products and services designed to enhance and decorate a living room space or dedicated home theater environment. InteriorMark is a member of the National Home Furnishing Association and Western Home Furnishings Association, and is an A-rated member of the Better Business Bureau.
###