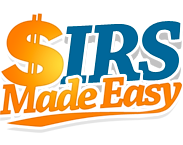 At IRSMADEEASY.com, taxpayers can resolve IRS problems themselves.
Washington, DC (PRWEB) May 07, 2011
There are fewer and fewer resources available to help taxpayers learn how to properly deal with the IRS. Taxpayer advocate Nina Olson notes that the IRS has ramped up its spending on "hard core" enforcement and the handing out of levies. At the same time, spending has declined on the type of services that help Americans understand how to pay their taxes. This is why IRS MADE EASY launched its website and innovative program this month: to be an ideal solution for tax-related problems—all without an expensive tax resolution firm.
At IRSMADEEASY.com, taxpayers can resolve IRS problems themselves. IRS MADE EASY's revolutionary DO-IT-WITH-US® program provides consumers with the know-how, tools, and ongoing support they need to get to the bottom of their tax problems – at a fraction of the cost.
Part of what IRS MADE EASY does is lets the consumers educate themselves on their own tax issues and also offers a big helping hand through the process. As a result, more people may be empowered to solve their tax issues.
Designed to provide taxpayers with a straightforward and step-by-step process to settle their IRS problems, this program can save the average consumer thousands of dollars by following the DO-IT-WITH-US® approach to tax resolution. It includes all of the necessary forms and step-by-step instructions in a format that's 90% support and 10% paperwork; something that's never been done in other tax resolution systems.
IRS MADE EASY is being offered for a limited time introductory price of $499 and includes 60 days of unlimited document review and support by a team of Tax Professionals and CPAs.
IRS MADE EASY can walk a program user through the processes involved in stopping IRS wage garnishment, stopping an IRS lien or bank levy, and settling tax issues for less than owed. With a 100% money back guarantee, there's never been a better time for taxpayers to resolve their tax problems with IRS MADE EASY.
The IRS has ramped up its spending on tax enforcement. Those with tax resolution needs are advised to act now. The newly launched IRS MADE EASY program is the latest solution to those needs.
###