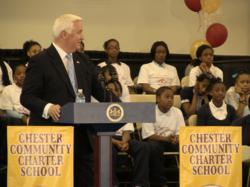 "Let me come back, not with an entourage, and let me spend time with the children… to teach a course, history or politics."
Chester, PA (PRWEB) May 10, 2011
Governor Tom Corbett recently visited Pennsylvania's largest K-8 charter school, Chester Community Charter School (CCCS), as part of his administration's ongoing review of the effectiveness of public and charter schools across the Commonwealth.
During the hour-long visit, Corbett was escorted on a class-to-class tour through one of the CCCS's ten state-of-the-art buildings before addressing the staff, administration and parents in one of the school's two gymnasiums. The Governor praised the charter school for its recent academic achievements and requested that he be invited back to the school, in the fall. "After summer vacation is over, let me come back," he said. "Let me come back, not with an entourage, and let me spend time with the children… to teach a course, history or politics."
The school's CEO Steven E. Lee said he and his staff would certainly follow up with the Governor's schedulers to ensure that Corbett is provided a formal invitation to return to the school, in the fall. "We would, of course, be delighted to have him back on the campus. This is a rare opportunity for Chester's children and we look forward to having him with us, again."
CCCS, which opened in 1998, has nearly 2,700 students currently enrolled, and hundreds of additional children on the waiting list. The school, whose students' PSSA scores consistently rank among the highest in the Greater Philadelphia area, has achieved Adequate Yearly Progress (AYP) in the assessments done by the State's Department of Education, in each of the past two years.
In addition to its academic success, the school has also provided 1,300 laptops, for each of its third-through-eighth-grade students, from the One Laptop Per Child foundation; won the Heritage Bowl competition, a day-long Black History Academic Tournament, becoming the first middle school to do so; and celebrated its boys' basketball team's first, undefeated season.
Lee credits the current culture to the parents, students, staff, administration and its founders, Vahan and Danielle Gureghian. "We owe much of our success to our dedicated staff; to our students who clearly want to learn; and to their parents, who want to see their children succeed," commented Lee. "We also owe a tremendous debt of gratitude to the Gureghians, whose commitment to the CCCS family is unwavering."
###