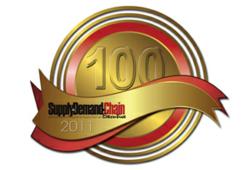 "We provide the most comprehensive, and easy to use tools, along with best practice strategies, to enable users to get the most out of their procurement process."
Mechanicsburg, PA (PRWEB) May 10, 2011
Puridiom, a leading Procure-to-Pay solutions provider has been selected as a Top 100 Award recipient by Supply & Demand Chain Executive Magazine for another consecutive year. Puridiom is recognized for helping its clients to achieve successful and innovative transformations that have delivered bottom-line value across the supply chain.
The Top 100 is a prestigious list of supply chain solution providers, consultants, and other organizations recognized for leading the way in transforming companies' supply and demand chains. This year the focus was on supply chain transformation projects that have had a significant impact on the company's going through the implementations.
"Our goal with this year's '100' is to put the spotlight on successful and innovative transformation projects that are delivering bottom-line value to small, medium and large enterprises across the different functions that comprise the supply chain," added Barry Hochfelder, editor of Supply & Demand Chain Executive. "The projects featured in the '100' article can serve as a roadmap for supply chain executives looking for new opportunities to drive improvement in their own operations."
"Puridiom has had the opportunity to work on many unique projects with our clients over the past 28 years," says Jesus Ramos, CEO and President of Puridiom. "We provide the most comprehensive, and easy to use tools, along with best practice strategies, to enable users to get the most out of their procurement process."
For a closer look at how Puridiom has helped its clients, read these case studies.
Puridiom will be featured along with other award recipients in the cover story of the June 2011 issue of Supply & Demand Chain Executive, as well as online at the SDCE website. To find out more about how Puridiom enables its clients with powerful savings and spend visibility tools, go to their website or send an email.
About Puridiom
Puridiom is the most comprehensive Procure-to-Pay solution provider to offer Cloud and Licensed platforms for organizations of all sizes and industries. For over 28 years, Puridiom has helped clients streamline the purchasing process, providing visibility and management of procurement spend.
About Supply & Demand Chain Executive
Supply & Demand Chain Executive is the executive's user manual for successful supply and demand chain transformation, utilizing hard-hitting analysis, viewpoints and unbiased case studies to steer executives and supply management professionals through the complicated, yet critical, world of supply and demand chain enablement to gain competitive advantage. For more information, visit the website.
# # #